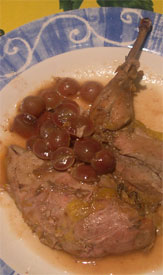 Sometimes the Cottage Smallholder game plucking service comes in very handy. We'll pluck and draw some game in exchange for a brace of pheasant or partridge. This gives us a good supply of fresh game right through the shooting season.
This is our own recipe for pheasant and grapes, braised in clementine juice and white wine. The fruit both tenderises the flesh and balances well with the rich meat of the pheasant. Loads of summery flavours. The ginger wine was an experiment that worked surprisingly well. This is quick to prepare and absolutely delicious. The result is a lovely light contrast to richer game dishes.
Pheasant braised with grapes, clementine juice and white wine recipe
Ingredients (for two):
1 pheasant (skinned)
3 slices of streaky bacon
450g of black seedless grapes
4 clementines, juice only
1 glass of dry white wine
1 dessert spoon of ginger wine
4 allspice berries
Ground black pepper
Method:
Pre heat oven at 220c (200c fan) for 15 minutes and then 180c (160c fan) for an hour
Scatter half the grapes over the base of a small casserole. (No need to peel these as they break down during the cooking process. Most of the flavour is in the skin).
Wrap the streaky bacon over the pheasant breast (secure with cocktail sticks) and lay it on its side in the dish.
Pour over the Clementine juice and white wine.
Toss in the allspice berries and season with ground black pepper.
Ensure a tight seal by putting some aluminium foil between the casserole and lid.
Place in a hot oven for 15 minutes and then turn the temperature down to 180c (160 fan) for half and hour. Take out the the casserole and turn the bird so the juices will infuse the flesh of both sides of the bird (if yu are using a roasting bag you can skip this step). Let it cook for a further half an hour.
Remove the pheasant and let it rest in a warm place.
Using a hand blender, whiz up the cooked grapes and cooking juices. Separate the fat (I find that the easiest way to do this is to use a fat and lean gravy boat).
Reduce the sauce on the hob. If you want a thicker sauce, stir in some potato flour (a teaspoonful).
Stir in the ginger wine (kumquat or orange liqueur would also do the trick).
Halve the remaining grapes and add to the sauce five minutes before serving.
We ate this with creamed potatoes and French beans.
Leave a reply