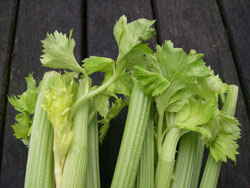 Nothing beats the intense flavour of Winter Celery. We lament the fact that the season is so short. Just six weeks, from mid November to New Years Day. Winter Celery is grown in the dark soil of East Anglian Fens, just a few miles from our cottage, so we can always find it at its freshest and best.
When I spotted it in the shops on Saturday I was so pleased to find my old friend again. I returned home with a couple of heads and one purpose in mind: Winter Celery begs to be made into this superb winter soup. If you are feeling naughty reserve one of the hearts to eat raw with a hunk of stilton and some warm soda bread.
We make vast batches of this soup to freeze and enjoy later in the year. The slow cooking enhances the intense flavour and makes a truly memorable soup. It is cooked with no fat so, if you leave out the cream, it is low fat. There's no dividing of ranks when you serve this to a mixed bunch of vegetarians and carnivores. Be warned, they might fight over the final ladle.
This soup is at its best if made and left for 48 hours (in the fridge). Somehow the flavours mellow even more.
| | | |
| --- | --- | --- |
| Winter Celery soup recipe: oven baked | | |
Recipe Type:
Soup, Starter
Author:
Total time:
2 hours 20 mins
Ingredients
2 heads of Winter Celery. De-string the coarse outer leaves and chop into 5 cm pieces (approx 1 kilo)
600g of potatoes (peeled and chopped into 2 cm thick rings)
1 large Spanish onion, chopped roughly (approx 350g)
1.5 litres of vegetable stock (water and 6 teaspoons of Marigold Bouillon stock powder)
A dash of dry white wine (optional)
A couple of bay leaves
A good dash of fresh ground pepper
350ml of single cream/creme fraiche to serve (optional)
Instructions
Pre-heat oven to 140 C (120 C fan-assisted).
Prepare the vegetables as above and put into a large heavy bottomed, ovenproof saucepan.
Add the stock, bay leaves and ground pepper.
Bring slowly to a strong simmer.
Cover the top with foil and put on the lid to create a tight seal.
Place the saucepan on the bottom shelf of the oven for 2 hours.
Remove the bay leaves and liquidise. Adjust seasoning to taste.
Serve in warm bowls with a swirl of fresh cream and plenty of fresh bread.
Leave a reply