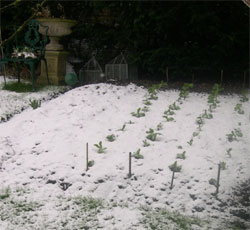 I was a bit worried by last week's snow and shot down before breakfast, in my dressing gown and wellies, to shake the snow off the broccoli netting. I keep the broccoli under nets to protect it from greedy woodpigeons. But the weight of the snow could snap the stems however sturdy. The fences only vaguely support the netting. I need to make a sturdier structure in the middle of the border this year.
The dry weather last summer meant that John delayed planting the broccoli until August. This has dramatically effected their growth. They look pretty healthy but stand at only three feet tall. Last spring we had four foot giants that stood on solid rows and produced trug loads of the sweetest white heads I'd ever tasted. This year will be a smaller harvest. Roll on late April when we will be picking and chomping. The supermarket offerings are hard and bitter in comparison.
I was also concerned about our broad beans. These were planted in November in the plumped up bed and have flourished. I didn't have time to check whether they should be under cloches so left them alone. Today, they are looking strong and have survived the snow and hard frosts. But I had already got the bit between my teeth, cloche wise. Unfortunately we only have three cloches so I popped them on six feet of broad bean plantlets. I'm hoping that this will extend the season as the plants under cloches should develop more quickly and give us an earlier crop. I am also planning to sowing more broad bean seeds in a couple of weeks time. They are such a delicious, versatile vegetable and freeze so well.
Leave a reply