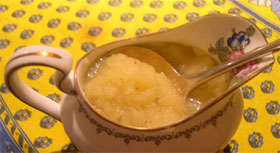 Tonight Danny cooked his roast pork with perfect crackling. Although he makes a great apple gravy to accompany this, I had a longing for the fluffiness and sparkle of some homemade apple sauce. A decent apple sauce is a joy with roast pork and it's so easy to make. Our apple sauce is nothing like the apple purée that we feed to visiting babies. This sauce is on its toes.
We stored boxes of Bramley cooking apples in our barn through the winter. These are perfect for our sauce. For me, the hard bit is to remember to fetch the apples in before darkness falls. The lighting in the barn would make the dimmest night club seem dazzling.
Our cooking apples are softening and sweetening (a bit) so I only needed to add a teaspoonful of sugar to 450g of fruit. When the apples are fresh from the tree you may need more. It's a good idea to sample a teeny slice before cooking, just to judge the tartness of your core ingredient.
Even if the apples are very sharp, always add some fresh lemon juice or even lemon zest. As with our Old Fashioned Apple Jelly, the lemon enhances the apple flavour. I played with the sauce this evening, adding fresh thyme and white wine. I think mint would be a good alternative to thyme, although I haven't tried it yet. The flavour of D's roast pork is very complex, a clean fresh sauce is the perfect compliment. Even if you are watching your figure, don't ignore the knob of butter. It somehow transforms good to great.
When Danny tasted the sauce, he loved it. He did admit, just now, that he was dubious about the thyme. Sauces for a roast are a great opportunity to experiment and play. If they are a disaster, you have gravy as a fall back.
It's worth making a decent amount of apple sauce, more than is required for the meal. It's delicious with meat or cheese in sandwiches. It also freezes well.
Tangy apple sauce with lemon and thyme recipe
Ingredients:
450g of cooking apples. Peeled and cored and sliced into 1 cm slices
1 tsp of lemon juice or half tsp of lemon zest
1 tsp of sugar to taste
1 flat tsp of chopped fresh thyme
1 tbsp of dry white wine (you can supplement water if you don't have wine to hand)
1 tbsp of water
1 large knob (25g) of butter
Method:
Place the sliced apples in a saucepan, add the white wine, water, thyme and lemon juice and simmer over a low heat (with the lid on) until the apples soften and become fluffy.
Taste the mixture before mashing the apples with a fork and adding the sugar (to taste) and butter.
Simmer gently, lid off, for a few more minutes.
The sauce should be light and fluffy. If it's watery, simmer gently without a lid to evaporate the juices, stirring occasionally.
Serve this sauce warm with a roast joint or chops.
Leave a reply