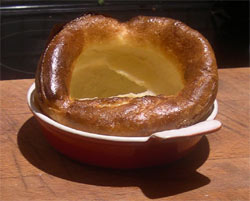 Turning her car in the road my mother's foot slipped from the brake to the accelerator and hit a row of parked cars. Just days before her 88th birthday she climbed out of her car for the last time.
Although her car is slightly older than Jalopy, my mum had cherished it for 15 years. Recently she had begun to think about giving up the car. But this would have such a drastic impact on her independence and freedom she had kept on putting off the decision.
"The insurance company has written it off." Her voice trembled on the phone. "They didn't even want the spare set of keys as they are towing it to the breakers yard."
With a perfect service history, just 55,000 miles on the clock and only a smashed headlight and crumpled wing, someone is getting a bargain.
"I've cleared out the car and put the keys in the glove compartment. I'm making sure that I'm not at home when they come to tow it away."
The experience had clearly rattled her deeply so we decided to make her a really special birthday lunch. Living alone, she rarely eats a decent joint of beef.
I bought a hefty corner of beef from our wonderful butcher – Fred Fitzpatrick, Exning Road, Newmarket.. This is a succulent rolled topside – perfect if you love very rare roast beef. Danny was conservative with the cooking times for his rare roast beef recipe. The beef was about 1.3 kilos and he gave it 15 minutes at 240 (220 fan, gas mark 9) and 50 minutes at 160 (140 fan, gas mark 3) resting it under some foil and thick pile of towels for a good 20 minutes. The trick to carving this joint is to carve it with a very sharp knife, as thinly as possible. Then each mouthful just melts in the mouth.
He made his perfect crispy roast potatoes (in goose fat) and lots of fresh veggies. As taxi driver and mistress of the cocktail cabinet my contribution was just to made some Yorkshire puddings. I decided to experiment and use the buttermilk that was left over from making Mildred's butter. I had run out of plain white flour so I substituted Strong white bread flour and a couple of eggs.
Everything was perfect from Danny's end of the kitchen but I wasn't ecstatic about the Yorkshire puds. They rose but in a flouncy sort of way.
"I reckon that you overfilled the individual patties," suggested Danny.
"These are great, Darling," said mum. "Much better than Aunt Bessie's."
We make our individual Yorkshire puds in an old cup cake tray with 12 compartments. Mulling it over this evening I spied a small thick Le Creuset dish sitting on the kitchen side. At lunchtime, I had used a thinner cake tray than usual. Perhaps the thicker Le Crueset dish would hold the heat better and create the perfect hot fat – cold batter whoosh.
There was some batter left over in the fridge, so I tried making a single bigger Yorkshire pud this evening in the heavy dish. I popped it into the oven with a splash of the nuttier rapeseed oil to heat up. Ten minutes at 220  (200 fan).
The mixture fizzed and muttered as it was poured into the smoking oil in the thicker pan. Within 20 minutes it had risen into the perfect Yorkshire pud for filling with cold roast beef for lunch tomorrow. And it has kept its shape!
I don't know whether it was the dish, the Strong flour or the buttermilk or a combination of the three. But I am going to stick to this method from now on. I reckon that ramekins would produce good mini yorkshire puds too.
Leave a reply