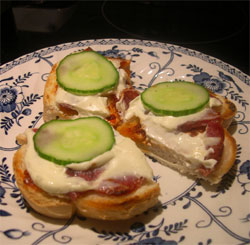 "This tastes just like good tapas," Danny smiled and indulgently counted the remaining triangles on his plate. He is at his happiest mid meal.
I'd come home for lunch on a chilly dreary day wanting something warm to eat for lunch. I poked about in the fridge and discovered a length of salami, some Philadelphia cheese, the wedge of Nduja and the crusty ends of an old loaf of white bread.
I grilled the crusty side of the bread and flipped them over. Then I spread a thin layer of Nduja on the soft side, scattered this with chopped salami and spread a thick layer of p cheese. I put them under the grill for a few minutes until the cheese began to soften bubble at the edges, I popped on slices of chilled cucumber for the last minute, to add a coolness and crunch.
Cut into small squares these are great as an appetiser.
Something magical happens to Philadelphia cheese when it is grilled.
Leave a reply