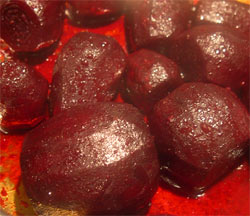 Danny's face fell ten years ago when John Coe stepped proudly into the cottage with a carrier bag bursting with home grown beetroot.
Later he admitted that he hated beetroot. He imagined that beetroot had to be transmogrified to that vinegary stuff in jars. I made him beetroot soup and he loved it so much that we overdosed.
Many beetroot free years have passed since then. To my surprise and delight D returned last week with a small box of "Sweetfire" beetroot from the "condemned food counter" in our local Tesco. This is wonderful stuff. Sweetfire is a trademarked marinade. Sweet and spicy and great chopped into a salad or just guzzled straight from the pack as Danny discovered that evening.
Some friends dropped by recently with baby beetroot harvested from their own patch. This evening I was determined to bake these to accompany our breast of lamb and quince roast. We are back to the drawing board on the lamb but the baked beetroot was superb and the perfect accompaniment to lamb.
Unfortunately the discounted price stickers obscured the ingredients of the "Sweetfire" recipe. I could only read "White wine vineg… extra virgin olive oil, chilli extract." So I made up the rest of the recipe.
Perhaps this was a lucky break as the beetroot was wonderful, dead easy and I was chuffed when Danny scraped the juices from the dish. The chilli just smouldered and allowed the sweetness of the beetroot to come through – D doesn't like things to be too spicy. Double the cayenne for extra voompf.
Sweet, spicy slow baked beetroot recipe
Ingredients:
225g of baby beetroot, washed and topped, tailed and peeled. Or the same amount of more elderly beetroot (the same washing, topping, tailing, peeling treatment) and then sliced into 2 cm chunks.
2 tbsp of Extra Virgin olive oil
0.25 tsp of cayenne pepper (0.5 tsp for the chilli initiated)
0.5 tsp of finely chopped garlic
1 tsp of fresh lemon juice
0.5 tsp of white wine vinegar
Method:
Prepare the beetroot.
Combine the olive oil, cayenne pepper and garlic in a small ovenproof pan that has a lid. Turn the beetroot through the mixture and bake in a low oven (160c, 140c fan) for 40 – 60 minutes with the lid on.
When the beetroot is soft and yielding pour over the white wine vinegar and fresh lemon juice and turn over the beetroot to absorb. Add a decent twist of freshly ground black pepper.
This dish will happily keep in a warm spot for half an hour or so as you prepare and cook your other vegetables.
Leave a reply