Watching the birds feeding just outside the kitchen windows gives me enormous pleasure. Since the bird eating cat that used to lurk in our front garden has moved away there are many more ground feeding birds and quite often I spot mice collecting seeds. Mice in the shrubs are fine. When they come into the house they are a problem.We give the birds mixed seed and fat balls all year. We only put out peanuts in the colder non nesting months as baby birds can choke on peanuts. Finally my large tub of fat balls for the birds has run out. So I...
read more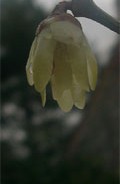 I think that I get more pleasure from winter flowering shrubs than any other shrubs in the garden. When they flower it's like a surprise visit from an old friend. The birds like them too; the flowers attract insects and these in their turn attract the birds. My Mother advised me to plant winter flowering shrubs near the house, this was good practical advice as we don't spend much time pottering in the depths of the garden when it's chilly. She also pointed out that it would be a good idea to put the most scented shrubs in the...
read more
Most of the houses that I work in have a conservatory. The majority of them have a pair of binoculars lying on a windowsill. Not for observing the neighbours but for watching birds that visit their gardens. When I look at a client's bird table I often wonder whether a lot of the birds do the rounds. Is it the same belligerent gang of long tailed tits that took turns to eat our fat balls this morning? And do my precious collared doves actually belong to families all over the village? To encourage bird visitors, we plant shrubs that...
read more