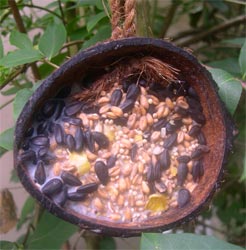 Watching the birds feeding just outside the kitchen windows gives me enormous pleasure. Since the bird eating cat that used to lurk in our front garden has moved away there are many more ground feeding birds and quite often I spot mice collecting seeds. Mice in the shrubs are fine. When they come into the house they are a problem.We give the birds mixed seed and fat balls all year. We only put out peanuts in the colder non nesting months as baby birds can choke on peanuts. Finally my large tub of fat balls for the birds has run out. So I decided to make my own. My friend Bunty, pours off all her warm leftover fat into flat plastic containers and she strings these up for the birds. This works well in the depths of winter when it is freezing outside. I tried it once in the summer and the fat melted in the sunshine.
I had a bit of a sniff about on the Internet and discovered that lard or suet seems to be a good fat base for home made fat feeders. There is an interesting thread in the Wild About Britain forum with several recipes and useful suggestions such as adding raisins to the mixture.
I found an old coconut feeder knocking about in the barn. We buy wild bird seed in 25 kilo sacks. So I filled the half coconut shell with mixed seeds and poured the melted lard over the seed. I put it in the fridge to harden. It hangs in a sunny spot and has not melted. Lard is cheap, and the massive sacks of bird seed are under ?10. So this homemade mixture is so much cheaper than the commercially produced balls.
Yesterday I spotted a coconut in the supermarket. After we have gorged on coconut I plan to use the shells to make two more reusable bird fat feeders.
Leave a reply