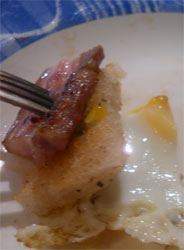 I was tagged for a meme yesterday by Sally who writes the Casalba News blog. This is a great new blog, beautifully written and like the five blogs that I've tagged at the end of this post well worth a visit.
I am publishing a photo of my last mouthful of our breakfast this morning. Sally is married to an Italian and living in Italy. She might sometimes miss the naughty breakfasts that the British like to indulge in every now and then. Yes, it is fried bread crisped in the fat of home cured bacon… Heaven.
What I was doing 10 years ago:
I was a computer animator, owned by a small black dog, and working out of a studio in Wardour Street.
And then I met Danny.
On my to-do list today:
Sleep in late and take my mum shopping. Make some veggie dishes (they take ages and need to be prepared in advance for tight weeknight schedules). Not answer the telephone. Having visited Fred Fitzpatrick's (the best butcher in Newmarket) and talked about The Salami Project, research the ingredients and make a list for my return to Fred's shop on Monday. All cheap cuts are available on a Monday as this is the key butchering day. Ignore telephone. Sort out my seeds. Clear the weed from the pond. Mend the greenhouse door (a panel smashed in the storms). Find the chain saw and deal with the fallen poplar tree that is lounging on top of our favourite apple tree. Ignore the phone. Secure the fences that were battered by the high winds. Deliver frogspawn to a home that needs more frog companions in their garden. Clean out the hen house and make supper. Fall asleep in bed with D rather than curled around a warm laptop.
Snacks I enjoy:
I don't tend to snack but I do have a weakness for Hula Hoops at 7 in the evening when I am supplementing the weekly shop.
Things I would you do if I was a Billionaire:
Support the people who are starving and living in poverty without hope. Look at ways of helping the older generation that does not entail herding them together in large groups and treating them like half wits.
Three of my bad habits:
Being a bit too optimistic about how long an hour actually lasts
Putting things off until tomorrow
Forgetting to stop and enjoy the moment
Five places I have lived:
Torquay, UK pre Fawlty Towers
Hull, UK
London
Ascot, UK
North Tawton, UK
Five jobs I have had:
Waitress
Wooden toymaker
Craft instructor
Gardener
Independent publisher's assistant
And finally…five people who write interesting blogs that I'd like to tag (in no order of preference):
KJ at A Cracking Good Egg
Jo at LittleFfarm Dairy
Joanna at Joanna's Food
Plumsource at Family Shenanigans
Richard at Not a Proper Farmer
Leave a reply