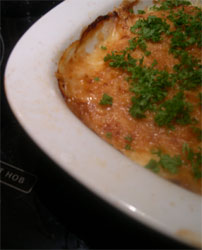 We are trying to eat through the freezer contents at the moment. I keep on unearthing strange unmarked parcels. I was once told to label everything, that I'd never remember what they were. That wise sage was right. Now I can't even remember who it was.
Yesterday I found what transpired to be cod and concocted this recipe for tonight's supper. It's an off the cuff Cottage Smallholder invention. Absolutely scrummy and so much easier than the fish pie that I was planning. The Min Pins were a bit disappointed. Normally they force down our disasters.
The secret is the cheddar crust. This seals the top of the dish and helps to retain the moisture. Under the crisp top the fish was tender, succulent and full of flavour. And it was quick and easy. Perfect.
Tasty oven baked cod with a cheddar crust recipe (for 2-3 people)
Preheat oven – temp 220c (200c fan)
Ingredients:
0.5 kilo of cod or haddock (unsmoked)
125g of grated cheddar
1 large egg
2-3 tablespoonfuls of milk
Freshly ground black pepper
Quarter teaspoon of powdered mustard
2 tablespoondfuls of chopped parsley
1 lemon and parsley to garnish
Method:
Lightly grease an oven proof dish.
Line the dish with the fish.
Add the milk and sprinkle with parsley and ground black pepper.
Beat the egg and mix in the grated cheddar pour this over the fish.
bake in the centre of a preheated oven for thirty minutes.
Sprinkle with parsley and serve with lemon wedges and a good bottle of Muscadet.
Leave a reply