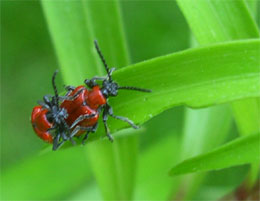 Three years ago my mother started to mutter about the Lily Beetle. It was attacking her lilies, chomping all her flowers when thery were just tasty shoots. I checked our lilies carefully. They were fine. Two years later the Lily Beetle reached our village, fifteen miles away.
I didn't notice the invasion. We had no lilies in flower that year.
Lily Beetles are bad news. Generally in the first year you find the decimated lilies before you find the beetles. You never make that mistake again.
They seem to have a great love life as you tend to find them in pairs. They are easy to pick up and crush between thumb and forefinger. Having got rid of these rampant egg layers it is important to get rid of their eggs as these will develop into grubs that will devistate your lilies. The grubs are particularly keen on the tender leaves and flower buds. The eggs are easy to spot as they are the blackish-brownish smuts on the lily leaves. I remove them with a damp cloth.
I am not keen on using sprays in the garden but if Lily Beetles are a real pest there is a systemic spray that controls them well. My mother asked her local garden centre for a solution and they suggested Bayer Provado Ultimate Bug Killer
. It does not state that it kills Lily Beetle but she has found it to be effective. As the spray is systemic, your lilies will be protected for about six weeks.
Leave a reply