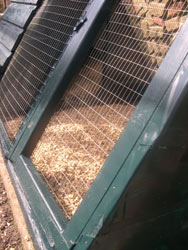 Last year Mrs Boss was the heroine of the Farming Friends and Cottage Smallholder Interblog breeding event. Four of her keets matured to replenish our local breeding stock, adding some good Yorkshire grit to our East Anglian strains. For the first time in years Mrs Boss was a happy bantam hen, absorbed by her flock and no longer bullied.
She rose from the bottom of the pecking order to a place where she didn't care if she was pecked. She was so distracted by her adopted brood that she ignored the taunts. After a while the pecking and bullying diminished. As her brood grew she matched this in growth of status. I worried about what would happen when half her flock flew the nest.
Things changed pretty quickly when Marco and Gep left as she was left with the newly married guinea fowl couple and suddenly she moved from earth mother to gooseberry.
Within a few weeks she was broody again. The Chicken Lady sprang into the breech with the offer of Indian Runner duck eggs. Mrs Boss was happy to oblige.
There was a major problem. The Castle. This is the ark where we put a broody hen on a nest of eggs. Ideally a broody hen needs peace and quiet away from the rest of the flock when she is sitting on eggs. And a safe enclosed environment when the eggs hatch.
As you know, vermin were active this winter in the chicken run. Having repaired the castle, I gave it two coats of paint and gravelled the grounds. Sprayed and scrubbed the house and finally made the bounciest nest. I moved Mrs B and the six eggs in seconds.
She is has now been settled in the Emerald Castle for three days. She has taken the air, strolling in the castle grounds and is eating and drinking. She hops off the nest each morning when I proffer some wild bird seeds. Remember to shift your broody hens off the nest if they are sitting on eggs. It's a great opportunity to check the eggs and your hen needs to be jogged out of her broody state to relieve herself and feed.
At the end of her 28 day stretch she will welcome and tend every creature that emerges from her adopted eggs. Duck or Martian, it'd make no difference to Mrs Boss. She'd care for them all.
Leave a reply