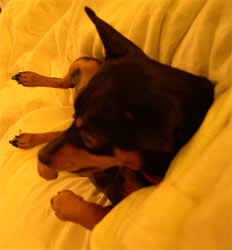 I've been tagged for The Fantastic Four Meme by Richard at Superfood. A great blog, well worth bookmarking. I have tried some of his recipes and they work well. Inventive recipes created by someone who loves food – what could be better.
The Meme is simple. 5 areas of interest, four points in each. Happy to jump through hoops this evening.
4 jobs I've had in my life:
Instructor at a day centre for mentally ill adults: (painting, photography and dance).
Computer animator: Great job, massive 14 hour days. No social life. But the highs were humungous.
Toymaker: satisfying, long hours, moderately creative and then banging out thousands of the best sellers.
Decorator: a fascinating fly on the wall look at life. It's good being making a place look better.
4 places I have lived:
Cambridgeshire. Lived in Cambridge for six years as a child. Most of my childhood memories are of this period (2 yrs -8yrs). The cottage we live in now is on the Cambridgeshire Suffolk border. Happy here.
Devon. I was born in Devon. Love the softness of the county. Moved back when I was 8 years old left when I was sixteen. (Paignton, Torquay, North Tawton)
London. Lived here after Uni and on and off until I met Danny. Mainly south but ex husband lived in Finsbury Park.
Hull. Spent three years here at Uni. Much colder weather wise but the people were much more open than 'Us down south'. Returned to the campus 24 years later to find that the saplings had grown into mature trees!
4 places I have been on holiday:

Ireland. Just before I met Danny I went to Ireland for the first time on a bread making course at Ballymaloe Cookery School. Since then have been to Dublin and Kinsale.
France. Visited Normandy when I was nine and fell in love with the takeaway pancakes and the markets. Visited Paris every summer for a month each summer as a teenager. Culture in the morning and clothes shopping in the afternoon. Enjoyed the South of France in my twenties
Italy. We love Italy and would choose to go there anytime. We have visited the Cinque Terra, Rome, Milan and Como.
Old Hunstanton. My mum used to take us on holiday to Hunstanton when we were little. Children, like dogs have no sense of time. I remember endless weeks of sunshine with my mum knitting Fair Isle jumpers for us in the beach hut. In fact our hols were just a long weekend. The only thing that I didn't like was being forced to ask the ticket inspector (they stood at the platform entrance in those days and seemed very big)
"Which switch is the right switch to Ipswich?"
Quite often the comment was ignored and I cringed onto the train.
4 of my favourite foods:
Egg mayonnaise sandwiches. Best made with our own eggs, homemade mayo, our home grown watercress and really fresh bread. But I wouldn't turn down one from Prét.
Wild Smoked salmon. Always buy this when it is on offer and freeze it for the ultimate treat.
Confit de canard with duck foie grass. Was introduced to this when staying with Jocelyn and Miles in France. I love them both ( J and M of course, but we are focussing on duck here) so having the two on the same plate is heaven. At one restaurant the ducks were weeping and shrieking in an enclosure just beside the entrance, I momentarily felt a pig but within seconds was ordering confit and foie grass.
Potted shrimps. I adore these. We used to go shrimping in Hunstanton, unfortunately my mum did not rustle up potted shrimps so I didn't taste this delicacy these are until well into my twenties. D isn't so keen, so I guzzle tiny pots of these when he is away.
4 places I would rather be right now:

On the swing seat in the garden with sunshine, a glass of wine and the dogs. Gentle clattering in the background tells me that Danny is preparing a superb feast for us all.
Walking up An Important Cornish Road in Padstow. Arm in arm with Danny. Having been personally invited by Rick Stein to eat at his restaurant
Waking up on a warm, sunny Sunday to a large mug of sweetened tea and a smile from D. Feeling Inca (our youngest Min Pin) stretch and nuzzle my back.
Canoodling In a chauffeured punt on the Cam, gliding towards Granchester.
I have chosen these four great blogs to tag, in no order of preference
Pat at Pat's Food Blog, Celia at Purple Podded Peas, KJ at Cracking Good Egg, Joanna at Joanna's Food
Leave a reply