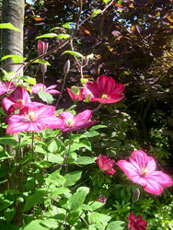 "We've ordered a potting shed!"
The Chicken lady passed her laptop across to show me the picture. She explained that the greenhouse had been wrecked by wayward footballs and time.
"So we're getting rid of it and making a small vegetable patch when it stood."
"With Dahlias at the back." added S.
We've watched the preparations for weeks. The selection of the perfect spot in the garden. The ground was cleared and the hefty sand and cement base laid.
Then it arrived. Carried across the big paddock. But the roof was cracked and the door was at the wrong end and a pane of safety glass shattered into a trillion tiny diamonds across the grass.
"It's so disappointing." TCL looked crumpled as we knelt and picked out the shards one by one.
The potting shed company returned to set things right last week. This evening we were invited to celebrate this marvel. Door in the right place, open and welcoming. A fully glazed oasis complete with comfortable chair and radio.
There was even a sign "â?? ' potting" fashioned by son Rollo, nailed to a decorative log. So you could be sure that you had arrived at the right place for potting.
We sipped champagne and examined the PS inside and out. We stood watching the Indian Runner ducks darting in a small group across the paddock. Then we toured the garden, full of secret spots and tantalising twists, turns and surprises.
One of my favourites is a small unmanned toy boat moored at the edge of the pond.
"Somewhere in the depths lies the sailor," S explained weeks ago.
When I peered in all I could see was a shoal of fish rushing for the cover of a lily leaf.
As the light started to fade we repaired to the dinning room.
We ate in style to the strains of Cat Stevens and the chatter of the white budgies.
TCL had caught me making a large batch of our luxury fish pie this week.
"Don't give it to Danny tonight as I'm cooking fish pie on Saturday for us all."
I knew that hers would be better. And it was. A delight that salved all the hassles of last week in a mouthful.
Good company, great food and happiness deep in the heart of the country.
Leave a reply