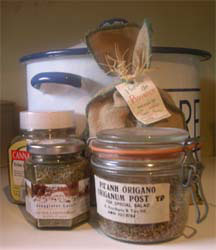 When we go away on holiday we search for two types of shops, hardware shops and food emporiums. The latter can be supermarkets, outdoor markets, greengrocers or delicatessen. If the country is sunnier than England, we are looking for locally produced herbs and spices. Perhaps it is something to do with the sunshine or the processing but these herbs are so much more pungent and last a lot longer than most of the dried herbs available in the UK.
Fifteen years ago I went to Crete for a month and found some wonderful blends of local herbs in a large indoor market. Unfortunately most of them were tossed out by the Penultimate Paramour as "out of date". He didn't spot the airtight jar in the photo – we still use these, the aroma is heady when you prise off the top. Danny was amazed that herbs could last so long. We found the sack of Provencal herbs at Charles de Gaulle airport a couple of years ago. We've used a sack already and when this one is opened it'll be decanted into a le parfait jar with a tight rubber seal. We bought the little jar in Como. The combination of mixed Italian herbs and dried mushrooms are heavenly and won't last long.
Herbs and spices are great presents to bring back for friends and family. We found some tiny Le Parfait style jars in Newmarket and decanted herbs for my mother, she used them sparingly until she saw me sprinkling Provencal herbs into the mince and liver casserole of dog food (Min Pins are gourmets too). Within a week she was banging on the door for a refill.
Leave a reply