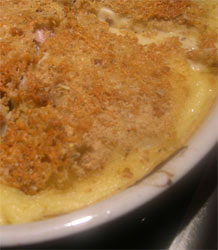 When I was a wooden toymaker I made a small car, simply shaped, immensely tactile. My sister christened it the Dumpy Car. I knew in an instant that the name would sell the car. I'd listen to people chatting about the toys on the stand. If I heard them mention the Dumpy Car, I knew that they were likely to buy. The words sound comfortable and solid, good in the mouth, with just enough resonance. I sold thousands of them.
Danny has a problem with the name "bake".
"Never make us a bake. I'd have to leave. Just couldn't eat it."
He has chomped through several bakes. Renamed of course.
And naming is part of the fun of cooking. Who'd scan a menu and choose Eggs Preserved in Isinglass? I might be tempted by "Deluxe Preserved Eggs", the imagination would flare. What was the process? Were they laid in the fat of Gloucester Old Spots and salted and sealed in large glass jars like duck confit? Or perhaps were they washed in the whey of milk from rare ewes, occasionally found grazing on the richer grasses of The Lake District.
I hate preserved eggs but I'd probably try them if they were presented as a delicacy.
So Danny savoured my Asparagus and Ham Mornay on a bed of mixed rice and asked for more.
I usually make a double batch of rice, so that there is enough left over for another meal. If you don't have the mixed rice knocking about in the fridge or freezer, allow half an hour extra to cook this. We make béchamel sauce in large batches and it can be a godsend for meals like this. Unfreeze in the morning and never mention "bake".
Asparagus and Ham Mornay on a bed of mixed rice recipe
Ingredients:
Mixed brown basmati and wild rice (cooked) or half a mug of brown basmati rice and quarter of a mug of wild rice (cooked in stock)
A bunch of fresh asparagus spears
4 slices of good thick smoked ham
500ml of thick béchamel sauce (50g of butter/75g of plain four/450ml of milk)
50g of strong cheddar cheese
A handful of dried breadcrumbs to scatter over the top
Method:
Wash the rice and place in a saucepan. Cover with boiling stock to about an inch above the rice (ideally homemade stock or 1 cube to every 500ml of water). Simmer for 30 minutes until soft with a bite.
Make the thick béchamel sauce and add the cheese.
Steam the asparagus standing in boiling water (tips up) for five minutes or so until they are sharp knife soft. Plunge the asparagus in cold water.
Arrange the rice in the bottom of an entrée dish. Divide the asparagus into four small bunches, roll each bunch in a slice of ham. Arrange the ham and asparagus rolls on the bed of rice. Pour over the sauce and sprinkle on the bread crumbs. Bake in the oven at 180c (160c fan) for 20-25 minutes or until the top is golden brown.
Leave a reply