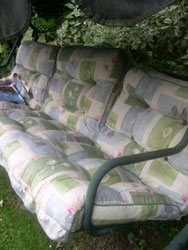 Several years ago I decided to tempt Danny to spend more time in the garden. He wasn't turning brown the way the rest of us do as the summer progresses. The face that smiled from behind the computer screen in The Rat Room was pale and pinched. He needed fresh air and a dose of vitamin D.
I decided to buy him a swing seat for his birthday. I knew that he wouldn't want a flimsy two-seater. It had to be long enough for D and the Min Pins to stretch out on. With a decent frame, soft cushions and the promise of many lolling years.
I had a thick wad of vouchers from Homebase and a lot of patience. Eventually, the perfect swing seat was on sale. I wasn't drawn to the cushion covers but the price was a perky £199 (originally £299). I waited another week and the price was slashed again to £169.
With my loyalty vouchers, the deluxe adult cradle would cost me just over 60 quid. Jalopy and I whizzed into Newmarket and ordered the beast.
Deep down inside everyone is the love of swing seats. It may be a half forgotten memory of ten minutes spent curled up on one as the Grown Ups discussed the lawn, politics and the route to Basingstoke via the A456.
Or a swing seat discovered in a secret sunny spot in the garden belonging to your parents' best friends. You know the ones. They always had older children that endlessly quoted facts from the Encyclopedia Britannica and wore grey shorts. There is nothing like the salve of a few minutes spent beneath the canopy of a decent swing seat.
Although I was confident that Danny would love the swing seat, I hadn't considered the horrors of a construct your own sort of present.
Being sturdy, the monster refused to bend into the right positions. After a terrible day battling with it, he flung himself onto the cushions and announced,
"I am going to sleep here tonight."
We had fallen out over the leverage needed to make the nuts secure.
The canopy guaranteed that he would not wake up freshened with dew. As far as I can remember he spent many nights on the swing seat that summer. It was his own space, after all. And I enjoyed greeting him in the morning so much so that when he complained that it was getting chilly sleeping under just an acrylic blanket I found him a goose down duvet for the next night in a matter of minutes.
A couple of weeks ago I felt exhausted and momentarily miffed that everyone seemed to be going on holiday except us. I discovered the cushions on the spare bed and set up the swing seat for the summer. That afternoon I lay on the swing seat for hours and took an instant holiday without a single surcharge.
Leave a reply