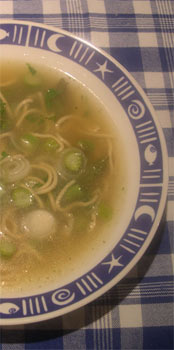 Danny reached for the ladle.
"How can you run up a soup like this in just ten minutes? I can't believe that it's low fat. It's delicious."
He didn't mention the soup disaster that had been poured into the dogs the day before.
Unbeknown to Danny I had researched soup based simply on a good stock, a few herbs and spices, a handful of fresh vegetables and some noodles.
Many Vietnamese, Chinese, Thai and Indian soups use this principle of combining a stock that has simmered for hours with fresh vegetables, herbs and spices that are barely cooked. When it works, the combination is wonderful. Loads of zing and deep flavours. And low fat.
.
Initially I made a ten minute soup and we ate it again on the second day. But the difference in taste and texture was not worth the saving on time. So now I make a fresh soup each day.
It's a good challenge as it's a great opportunity to play with flavours. And the ten minute rule makes you think on your feet. No time to linger and fiddle. It's the sort of close cut and thrust that makes cooking exciting. Over the past two weeks there have been disasters and triumphs.
The secret is a really good stock. It's worth taking some time over this. Hank has some great ideas here – my stock has improved since I read his post. I especially like his tip for adding a parsnip for sweetness. Joanna's idea of keeping the skins on onions is superb – it gives colour and added flavour to the stock. So with help from these two ecellent foodie bloggers and my new slow cooker friend (Crock Pot) my stock has transformed from the sceptre at the feast that often needed a handful of stock cubes to improve it to the sort of guest that you would welcome with open arms even if they arrived unexpectedly at breakfast.
Check the dates on your spices too. Everything needs to be really fresh.
The asparagus soup was just right although the soup didn't break the Olympic barrier on the ten minute challenge. It swished into our bowls well into penalty time but it was so delicious that we forgave the extra wait.
N.B. If you want the gisteny quality of a Chinese soup add a heaped tblsp of cornflour to a little hot waterand stir into the stock when you add the vegetables.
Quick Asparagus and coriander soup recipe (for 4)
Ingredients:
2 bunches of asparagus
2 large continental spring onions
1 fat garlic clove chopped very fine (or 1 tsp of garlic granules at a pinch)
1 litre of rich chicken stock (or boiling water and 2 chicken stock cubes plus one vegetable stock cube. In the UK Gallo are good)
1 large handful of fine egg noodles
3-4 tsp of ground coriander
Half a tsp of ground ginger
Pinch of salt
Half a tsp of ground white pepper
2 tsp of lemon grass (I used Bart lemon grass in sunflower oil)
Sprigs of fresh coriander and/or chervil to garnish
Method:
Bring your stock to simmering point whilst you chop your garlic.
Wash and snap off the fresh ends of your asparagus, reserving the woody ends for stock. Cut off the tips and slice the rest of the stems (half a centimetre rounds).
Add the asparagus stems, garlic all the spices and herbs (excluding garnish) to the stock. Simmer for three minutes.
Stir and taste and adjust the seasoning if necessary.
Add the egg noodles.
Add the tips and simmer for a further two to three minutes until they are cooked but still have a bite.
Serve in warm bowls with a garnish of fresh coriander and chervil.
Leave a reply