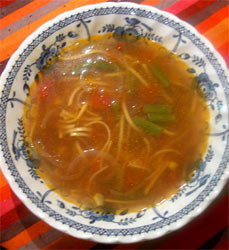 My night time dreams have been rich and startling recently. I dreamt that my pond was full of tropical fish, molluscs and crustaceans. Bright pink and yellow scallops hung on the sides as I watched small electric blue fish swim between my toes. I woke in the morning exhausted from this adventure and longing for seafood.
But we're back on the soup for weekday lunch regime and I needed to make some while I rustled up breakfast. In the winter I'm happy to cook large batches at the weekend, freeze them and pull out a carton each night. Somehow I'm much more picky in summer. I want a freshly made soup every day with zing and flavour.
Then I had a thought, if I could produce large batches of good stock I should be able to add a few simple ingredients, herbs and spices and make a different soup within minutes. The ten minute soup challenge had begun.
The slow cooker was pressed into action and I tossed in some pork bones and vegetables to produce an intense stock. Meanwhile I searched the larder and the internet for ingredients and ideas. Chinese and Vietnamese soup seemed to be made roughly on the same lines of a hot stock with thinly sliced additions of vegetables, meat, noodles and so on.
If the stock was chilled and fat removed, the soup could be virtually fat free. Making a different soup each day would be a great excuse to play with different flavours, have a bit of fun and not spend hours at the stove.
It took ten minutes to prepare and cook our first low fat fast soup. It was packed with fresh vegetables, deliciously spicy and surprisingly filling. If you want a thicker soup, reminicent of Chinese, add cornflower when your stck has reached the simmering stage.
Quick hot and sour vegetable soup recipe (for four hungry people)
Ingredients:
500ml of rich pork stock jelly
500ml of water
3 tsp of tamarind paste
half to 1 tsp of Thai red chilli paste
1 tsp of Thai fish sauce
4 tsp of soy sauce
1 tsp of sugar
Pinch of salt
100 grams of fine green beans topped and tailed and chopped
1 small onion sliced very fine
2 medium tomatoes chopped
2 large handfuls of sweet corn (I used frozen)
1 dash of garlic granules
Large handful of Chinese ribbon noodles (dried)
Cornflower (optional)
Method:
Heat up the stock and the water whilst you prepare your vegetables. Add the spices, noodles and vegetables and simmer for a few minutes until the beans have softened but still retain some crunch. Serve in warm bowls.
Leave a reply