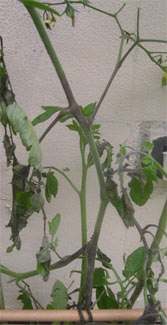 We have blight. When we were rushing out yesterday evening I spotted it on three tomato plants. Large blackish brownish splodges and a generally wilty look. It is unmistakeable. We had it five years ago and it devastated our tomato crop within days.
At the time we were creating a website for an expert on plant diseases. The fee was to be paid in whisky. Danny must have negotiated this deal.
The expert arrived with a rather good bottle of Isla whisky under his arm. He was immediately shepherded out to examine the tomatoes.
"Its blight. Just like potato blight. They're the same family."
It was hard to discuss his website. We were mourning the loss of a summer plucking sun warmed fruit from the plant and a long winter savouring our intense tomato sauce base. A good harvest makes enough sauce to last us through the winter until June.
We lost our entire crop that year. Now I grow tomatoes in at least two places. The blight has affected the plants at the front on a sunny south west facing wall. Usually the warmth of the wall nurtures the plants but warm and extended wet weather conditions are perfect for the development of tomato blight. I have hoiked out the plants and am hoping the blight spores will not have spread onto the other 12 plants. The blight affected the weakest plants, the others all look strong and healthy. If the wet weather continues for much longer I am afraid that they all will succumb.
The remaining plants could be treated with Bordeaux Mixture which was developed in France to treat fungal disease in vines. A lot of people spray their potatoes with this potion to protect against blight. It is a copper and lime mixture that is not environmentally friendly, so I am loathe to use it on our tomato plants.
Leave a reply