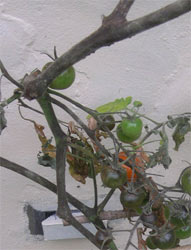 Perhaps it was because I kept tomato blight in check last year, that I felt confident about coping with blight this summer. It did take some time – examining the plants morning and evening, removing the iffy leaves at he first sign of blight. We did have some sunny days too and these keep the condition at bay. I thought that I'd cracked dealing with blight without spraying.
This year I was working away from home when it struck. I was regularly getting back after dark and so I did not see the signs. Rushing off early one the morning, I noticed the wilting leaves so I removed them that evening by torchlight. But it was too late. Within a couple of days the vines were black and the most of the tomatoes had those tell tale signs of puckered brown that quickly develop into black blighted fruit.
I bewailed my fate to Maurice at the butchers. He has a large quarter acre allotment.
"You have to spray before it strikes at the point when you think that it might happen. Those sultry evenings in July can be lethal if it's rainy. You need to be prepared."
I hadn't thought of spraying to avert the possibility of disaster. Diluted Bordeaux mixture still qualifies as an organic spray. Next year I'm going to give this a go if we have a long wet summer like this year.
Twelve plants and most of their bounty were lost but I do have a small investment at the bottom of the garden. Nine sturdy plants in the greenhouse and two languishing outside, beside the greenhouse door.
As I watered the two languishers this morning, I spotted the brownish stems, which are an indication of early blight. Although I was late for work I quickly harvested the fruit and threw the plants into the garden incinerator.
I'm hoping that the Indian summer that we've been promised will ripen the fruit on the jungle of seven greenhouse plants.
Hopefully there will be no jungles next summer. I plan to grow cordons, as I do each Spring. When I forget to nip out the side shoots, I can't bear to remove the vigorous growth. This makes for bushy plants that cannot cope with prolonged damp, warm conditions in which tomato blight thrives.
The remaining luxuriant tomato plants have reached the ridge of our greenhouse. Perhaps it might be wise to thin the leaves and give the fruit the best possible to ripen.
Leave a reply