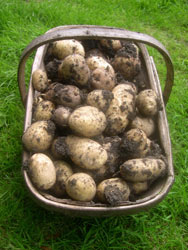 I have been bewailing my fate on the comments section of our first tomato blight post . I can't find organic remedies for tomato blight or sterilising the greenhouse (soil and general environment) or the soil in the kitchen garden.
If we have a cold winter with a decent length of hard frosts, the soil in the kitchen garden should be OK as the spores are killed by prolonged frosty weather (But how long is prolonged?). Then peter m gave us the link to a great site with organic treatments for vegetables. I can't wait to try them on our patch.
Potatoes and tomatoes are members of the same family and are susceptible to the similar diseases. We lost all our potato plants this year to blight, the trug of potatoes in the photo is the harvest from 60 plants.
Danny inspected the trug and retired to The Rat Room in silence. Potatoes in Ireland are floury. So floury pots are Champagne to an Irishman, living abroad. I have discovered that if I leave our spuds in the ground for an extra month or so I can dig up floury potatoes. In Ireland pots are planted in March and lifted July/August. Over here it's generally April planting, lifted in July. For a couple of years I have been The Golden Girl. Sadly no longer.
We still have toms on the go. Not the usual massive rows of fructulent crops. But about ten plants still hanging on.
Number 2 on D's list of scrummy veg are tomatoes. Guzzled straight from the plant on a warm sunny evening. We have a few ripening with an embargo.
"Don't even think about touching our tomatoes. We need sun and red ones to encourage the others."
After the fright of the potato plants, D has clearly not even dared to look at the toms. I, on the other hand have examined them so closely that I am considering a career shift from decorator to botanist. I am removing blighty leaves every evening but not treating the tomatoes which are on a sunny south west facing wall.
We ate the first small handful of tomatoes harvested from our own plants this evening. Small explosions of flavour and so precious after losing so many plants to blight.
Leave a reply