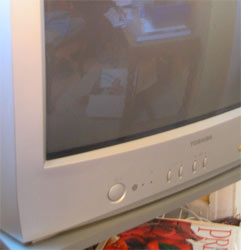 I love watching telly. It's seductive. We don't have cable telly or a digi box, so it's just the five UK terrestrial channels.
A year or so ago Danny set up a sideline business and I started writing this blog. How would we create the time to accommodate these ventures? The simple answer was to give up watching telly (August 12th 2006 is engraved on a small invisible gravestone that sits just below the telly in our sitting room).
It was worse than giving up coffee. So much light conversation is about telly and I couldn't join in. And even worse, when kind people tried to encourage me to join in I had to admit that I didn't watch it. The shock was palpable.
Also I genuinely missed the mog-out and still mourn the experience at the end of a very hard day.
Christmas is different. My mum is invited and telly is part of each day's je ne sais quoi. The Christmas before last, my mum and I wrapped ourselves around the telly. I was happy to watch anything. I remember a documentary about the Royal Ballet School and a wonderful production of Nicholas Nickelby.
This Christmas I was poised for viewing,
"Let's hope there's some Dickens."
Danny thumbed through the Radio Times. Twice.
"There's no Dickens."
I was so disappointed.
Then I noticed an advert on the back of the Sunday Times supplement that was lurking on the stool in the loo. I shot out to announce my discovery.
"They're showing The Old Curiosity Shop on Boxing Day evening!"
Danny perked up but my mum wasn't impressed.
"Do you know what the story is about?" She asked.
We didn't.
"Well it's very grim and I will not be tuning in."
My mum was leaving after the racing on Boxing Day so luckily she would not be subjected to the horror. When Danny had run my mother home we made a simple supper and switched on.
Derek Jacoby was the perfect man to play the part of the perfidious Grandfather. A brilliant actor with a delicate touch. The story was harrowing. I was on the edge of the armchair as the Min Pins nestled behind my back (they'd seen it all before). Thank goodness the grandfather wasn't living now when every postman's sack is weighed down with offers of new credit cards and spurious hope.
Leave a reply