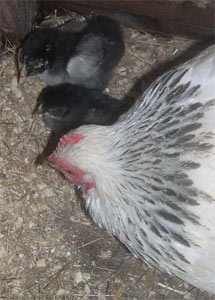 Mrs Boss has hatched just the two chicks. Three out of six eggs three were duff. Hoping for a miracle, I left the third egg in the nest and after a few days Mrs Boss moved it out into the castle grounds. Our ideal clutch was three as they could be accommodated easily in the chicken house when they grow up and there's no overcrowding in the Emerald Castle.
The two chicks are delightful and so very welcome. We won't know whether they are male or female for quite some time. The ring test on the unhatched eggs indicated that these two are female. All will be revealed in a couple of months' time.
Meanwhile, Mrs Boss is in heaven and perhaps it's a good thing that there are just two teeny chicks to look after. It's her second adoptive stint this year and the ducklings were quite demanding when they were tiny.
Mrs Boss is five years old. I'm not sure what this equates to in chicken years – I optimistically suspect middle age. She is kept busy with these chicks I reckon that she has enough hen wisdom to earmark a little deluxe time for herself. She certainly is looking much cleaner than she has done for months.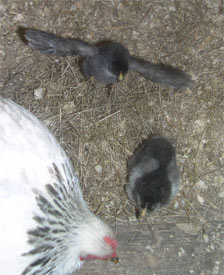 Dixie Chick is the bigger and more adventurous chick but at ten days old little Beatyl Chick is already learning to fly.
Leave a reply