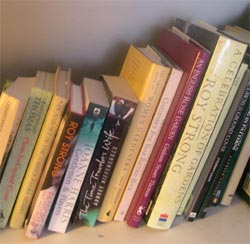 This Christmas, the only thing that I really wanted was a very special book. Preserving by Oded Schwartz
. This classic book was published by Dorling Kindersley in 1996 for £16.99. It's now out of print and sells for anything from £60 to £1014 via Amazon's marketplace sellers. Eventually my super sleuth partner pulled on his deerstalker hat and tracked down a copy up for auction on eBay Australia. After a nailbiting night, he tottered from the computer, having won the book. It's now winging its way from Victoria, £35.00 including airmail postage. A bargain.
We'd not bought any books on eBay before as we tend to use Amazon Marketplace Sellers for second hand books. This has always been a good experience. Pottering on the Internet this afternoon, I discovered a great UK book recycling site:
http://www.greenmetropolis.com/
All paperbacks are £3.75 (including postage). Hardbacks are £3.75 plus postage and audio tapes are £3.75 plus postage. The postage on the latter two is minimal. With a trembling finger I typed "Oded Schwartz" into the search page. Preserving didn't come up. It was a huge relief. Then I tried my favourite winemaking book that's virtually impossible to get hold of these days Complete Home Wine Making by Gillian Pearks and I discovered that GreenMetroplolis had a copy for just £3.75 including postage. It's still there as I write this post and hopefully whoever reads this post first will nip onto the site and grab it fast. Here is the link: http://www.greenmetropolis.com/book.asp?id=603541&author=Pearks+Gillian&title=Complete%20Home%20Wine-making The new owner will have a book that will enable them to make fabulous country wine for around 30p a bottle.
GreenMetropolis is a well thought out site and the best reason for registering is that you can open a wish list. This is a great facility. If a book on your wish list becomes available you will be emailed immediately. Suddenly an hour had gone by as I compiled my own sturdy list.
You can search for any book on the site. Apart from the serch facility which is good, they have five categories 'Quick Pick' categories that range from 'Books In The News' to the 'BBC Big Read' (people voted for their best book ever – won by Lord of the Rings). This had me diving in again for another hour or so.
If, like us, you have stacks of books that you will never read again (however good) why not think about recycling them? You will receive £3 for every book that is sold a postage payment is added to this for heavier hardback books. All you have to do is register, list your books and post them off when the time comes (most paperbacks are 200 and 400 pages, which would cost 55p and £1.29 respectively to post). The site is very user friendly. This is not a large corporation and most queries are covered in the help/FAQ pages for users and sellers alike.
The site is linked to the Woodland Trust. They donate 5p to the trust for every book sold. You also have the facility to donate revenue from your book sales to the trust.
On this wet and rather grim misty day, it was great to find an interesting site that is not wildly commercial, encourages us to recycle unwanted books and also benefits the Woodland Trust. Why not recycle your books as well as everything else and get a bit of cash to invest in a future project? Danny has already sorted out an assault course of several piles that I have tripped over. The only way to clear the path is to list them now.
Leave a reply