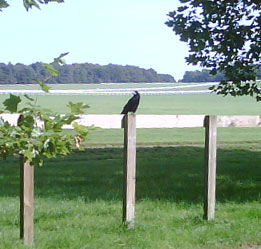 The Chicken Lady rang me a few weeks ago to discuss gelatine for making jelly in a jar rather than wobbly on the plate version. I hadn't a clue.
"What are you making?" I asked.
"If I told you it would spoil the surprise."
I was intrigued. What on earth was she creating?
TCL and S reversed into the drive in their small bright red cabriolet on my birthday. A generous hamper was sitting comfortably on the back seat swathed in a very smart woven tea towel.
Danny was extricated from The Rat Room. After several glasses of bubbly the hamper contents were revealed. Inside there was a large selection of homemade gourmet treats and a few items that TCL had earmarked as gourmand 'must haves' – such as Gentleman's Relish and pickled walnuts. This was a joint birthday present for us both.
The hamper equivalent of the Terracotta Army, so packed with delights that we were quite overwhelmed. We had a small impromptu party as we examined the contents of the hamper.
After a while, feeling a bit peckish I wafted one of the jars of homemade smoked mackerel pate into the kitchen and made up a plate of canapés. They disappeared within seconds.  So then I reached for a jar of homemade chicken liver pate –equally delicious. Same result.
We have frozen a few treats, feasted on many and are still working our way slowly through the gourmet journey that we hope will last well until Christmas. It was a fabulous idea, each item was labelled with superb illustrated designs (thank you Rollo). Over the past  weeks we have dived into the fridge/larder and indulged.
"I'm going to try the marmalade."
"Have you sampled the pickled eggs?"
"Let's be lavish with the ham, it was a present after all."
"Please leave some for me."
"We could give the Frasers that wonderful chicken liver pate as a starter."
"Do we have to share it?"
We still have loads of presents to try but Danny can't stop talking about The Mint Jelly, the sweet marmalade and the black pudding. I loved the chicken liver pate and the ham and Danny is still a bit sore that I ate the last two slices of the latter.
The hamper was a triumph. Danny was finally introduced to the best of English black pudding. The mint jelly was to die for. D ate so much with his lamb I thought that he might.
But the best thing of all was that it was prepared and presented with such care and thought. Each time a reach for a jar I remember the sunny, happy day when the hamper was delivered with hours of good chat and laugher. The sun spilled through our windows that day.
Leave a reply