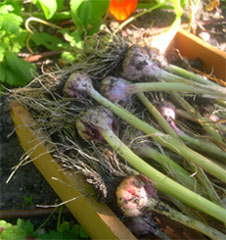 We thought we would try planting garlic and shallots in February, rather than the Autumn this year. I also planted some red onion sets. By April all seemed to be going well. Then in early July, I noticed small round seed heads forming on the garlic last. I snipped them off immediately but I knew that this spurt of growth would have had an impact on the bulbs.
I harvested the garlic yesterday. Small bulbs, a few have tight heads but some already seem to be opening and clearly will not last long. The shallots have given a poor harvest too. Most of the bulbs are smaller than the sets that I put in. The red onions are a joke. In fact I suddenly realised that I was standing on them as I harvested the garlic. They are so small that they are almost invisible.
I don't know whether these disasters are down to the weather or the early planting. We have always had good crops of garlic and shallots planted in September. So we are now going to go back to Autumn planting.
In September 2005 I bought Albigensian Wight garlic sets from DT Brown. This was lifted and dried in July 2006. This variety kept so well that we are enjoying the final head now. It is only just starting to shoot. DT Brown hasn't got it listed on the website this year but I have found it here. The Garlic Farm has a great reputation. Incidentally, I noticed that they have a stand at Borough Market on a Saturday. I am also tempted by the garlic lovers planting selection pack and the shallots, although the prices are a bit steep. If they produce good crops they will be worth the investment.
Leave a reply