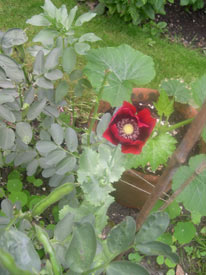 Sometimes it's easy to be distracted by borders that have taken years to mature and miss the dazzling surprise of unplanned flowers.
Particularly those wild flowers that have quietly self seeded. Suddenly they are standing before you, like clear eyed children that have stepped out of the shadows to surprise you.
I found this opium poppy in the broad bean border this morning. I hadn't even noticed that it was growing there. There was something about its fresh transient beauty that made my heart turn over.
Leave a reply