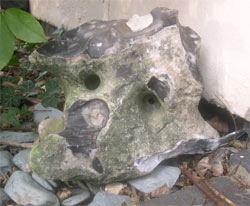 "I don't know what we are going to do with these stones."
David peered at the rocks that were arranged in a commodious pot just outside the front door of Einat's house.
"I don't suppose that you'd be interested in them, and the others?"
His eyes drifted to the grass and a group of sizeable flints.
"Yes please."
They were all large rocks. Massive flints and other superb unidentified specimens. Stones are handy. They can stop up rat holes, block escape routes for the Min Pins and entertain the chickens in their run (they enjoy basking on them in sunny weather). Sometimes I like to put stones on the perimeter of the ponds so that toads and frogs can creep under them for protection from the midday sun.
Stones add a different dimension to the garden and seem to hold energy. I just like having them around.
"How are you going to get them into the car?"
When the time came I rocked them out of their holes and with a strength that wafted on the wings of desire I managed to totter to Jalopy's front seat and stow them there for the journey home. When I reversed through the gates of the cottage they were hard to extricate from the front seat. Most are lying on the gravel where they disembarked.
One was carried into the house and scrubbed clean immediately. When I first saw him in Cambridge, I named him The Jester Stone. With one eye and a perky face he always welcomed me. Like any true wit he had a dark side. Sometimes he looked grim. But he propped up the garage door when I painted it and was a handy surface to stand on to salve the areas just out of reach when I was repairing cracks in the rendering. This stone had never languished in the commodious pot. He basked in the grass. If he assisted me he was always returned to his place. In the morning he seemed to smile as I drifted past.
When I washed him, the mud that had blinded the other eye was rinsed away. My pirate suddenly observed me unblinking from the sink. The one eyed perky look had gone. He now lies beside the front door. A new friend to watch over us.
Leave a reply