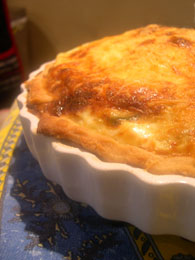 "I do hope this quiche is tasty," I carelesly remarked as we sat down for lunch.
Danny was just about to sample my concoction and paused fork in air.
"You said it was a tart."
"Well, yes. It is a tart." I had slipped up. Danny won't eat quiche, but he'll wolf down tart.
"Isn't a quiche supposed to be bland?"
"Of course not. People wouldn't eat them if they were bland."
"Well most men don't eat them. This is definitely a tart." He cut himself another slice.
Tasty spinach and Cornish Yarg tart recipe
Ingredients:
500g of shortcrust pastry
100g of elderly Cornish Yarg cheese with rind (cut into thin slices)
50g of parmesan cheese (finely grated)
3 large eggs (beaten)
200ml of single cream
375g of fresh spinach
Method:
Set the oven temperature to 200c (180c fan)
Roll out the pastry and line an 8″ quiche dish (retain the pastry offcuts to make melt in the mouth cheesy biscuits – recipe in 2 days time).
Prick the base several times with a fork. Brush the surface with some of the beaten egg mixture and allow the egg mixture to dry until it is just tacky this will avoid a soggy bottomed quiche. This takes at least 15 mins.
Meanwhile wash and shake the spinach. Place in a large saucepan over a low to medium heat, toss in the spinach with no extra water. Wait 4-5 minutes until the spinach softens and wilts. Drain very well, pressing down the spinach to remove all water.
Take half the grated parmesan and scatter of the base of the quiche. Chop the spinach roughly and spread over the layer of parmesan. Arrange the slices of Cornish Yarg over the spinach. Mix the cream and beaten eggs together and pour over the spinach and cheese. Scatter the surface with the remaining parmesan and bake in the centre of the oven for 25-30 mins (it is ready when the quiche has risen and the surface is golden brown. Let the tart rest for a good ten minutes before you dive in.
Leave a reply