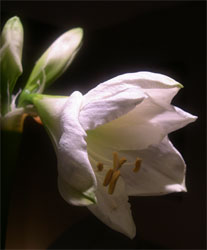 Finally the amaryllis that I bought just after New Years Day is flowering. We've had a lot of fun watching this giant gradually produce three thick stems with heavy buds. The stalks are well over two feet. This particular bulb guaranteed three flower spikes. I potted it up in normal potting compost in an eight inch pot. Within days the first two buds emerged. The third took a while to appear but is now catching up fast and now we have the promised three.
The first bud has gradually unfurled over last two days. Here's the flower. We will have 12 flowers to enjoy for at least seven weeks.
I used to buy those pricey amaryllis kits as Christmas presents. Last year I discovered these giant bulbs at the garden centre (?2.50). I potted them up in terracotta pots, using ordinary compost a couple weeks before Christmas so that the buds were going strong when they were delivered to friends. An elegant present for under four pounds.
Leave a reply