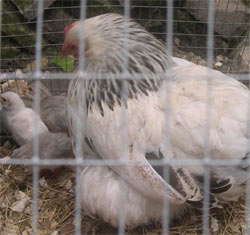 This is the sixth update on Farming Friends and Cottage Smallholder's interblog guinea fowl breeding event.
The keets are growing up and having fun. They are now eleven days old. A few days ago, the sunlight caught the shafts that were replacing the down on their wings. Now they have vanes on these shafts.
Mrs Boss usually steps onto the ramp to investigate when I approach the run. Her coterie of keets rush out and open their wings, slow and high, showing off their new feathers, before racing about the handkerchief garden.
Three of the keets are still lavender coloured. One now has white wings and a white underbelly and the naughtiest one is white all over. They are still nameless. As their surname has to be Boss, it might be fun to call them Trusting, Generous, Happy, Forgiving, and Witty. Coming from a country where names define religious predispositions Danny instantly categorised these names.
"Those are proper Quaker names."
Personally I have always liked Quakers and would be happy to own Guinea Fowl with Quaker names.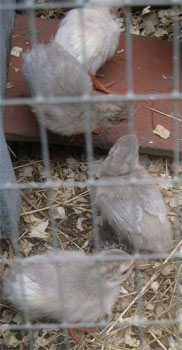 I spent last night boning up, in depth, Sara's advice for raising keets on her Farming Friends' site. The Guninea Fowl section has all the information that you need for breeding Guinea Fowl. I discovered that keets love lettuce (finely chopped). At lunchtime I grabbed a small board and knife and plucked one of our precious Cos lettuces. The grain store made a good surface for chopping. Four dogs appeared from nowhere. Perhaps I'd gone mad, forgotten their feeding time and was preparing a snack.
I divided the lettuce between the chickens and the keets in the castle. When I tossed the chopped lettuce into the handkerchief garden. Pandemonium for 30 seconds. The little white one made six circuits of the garden with a fragment of leaf in her beak, looking like a possible contender for the 2012 Olympics. What a shame only humans compete. Meanwhile the rest of the lettuce was hoovered up as I ticked off the dogs for baying outside the chicken run.
I had the camera poised for a superb action shot but unfortunately it whirred relentlessly and eventually produced a screen that explained succinctly, "Battery Exhausted."
Leave a reply