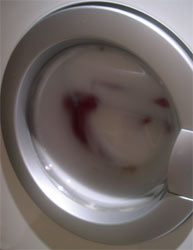 I used launderettes for years. Started at university. And it was a bit of a learning curve, particularly assessing how much powder to use. The machines seemed enormous the clothes were dirty. What was the yardstick?
Sometimes an innocent would add a whole pack of powder to a wash. The machine would bubble and froth and eventually the foam would escape in a trail that moved across the floor with the slickness of a skier in a supermarket. The lady would bob out from her cubby hole. With a sponge lashed to the end of a stick and corral the suds.
"Don't open the washing machine door! Or we'll all drown."
When there was no response, she'd examine us all carefully.
"Whose machine is this?"
"He must be in the pub."
"Let's hope he doesn't return on my shift."
His wash would be bunged into a basket covered with remnants of froth so as to release the machine for the queue.
Eventually he'd return, examine the machine where he'd left his washing and discover that a kind fairy had already unloaded his wash. We'd all watch in covert fascination as he plonked his wash into a giant drying machine. If it rained next week would his clothes froth?
Tonight I glanced at the window of our washing machine and realised that I'd joined the ranks of those novice washers. The froth didn't escape to clean our floor but remained pressed to the window for the complete 122 minute cycle. Including rinse and spin.
I'm going to the Hampton Court Flower Show on Saturday. I examined my rain jacket this morning and was about to toss it in the washing machine when I discovered that it needs to be washed in soap flakes. I trawled the barn – font of all things necessary to life in an unusual lane and discovered a dusty gap where the soapflakes had stood. This meant a quick lunchtime foray into Newmarket.
The instructions on the pack sounded so simple. Stir the flakes into hot water, dissolve and add to the washing machine. The flakes formed a globular mass. After 15 minutes of muscle building effort I gave up and removed the globules with a slotted spoon, added some boiling water and tossed in some more flakes. Stretched for time I poured the jug of semi dissolved flakes over the jacket and pressed start.
It's on the fifth rinse now. Finally the water is clear. If jacket's not clean after this, it's going in the bin.
Leave a reply