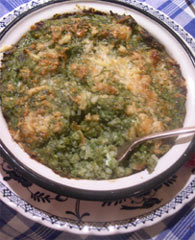 I tend to work a 10 to 6 day. One of the hardest things about decorating is working in a house where children eat at six. Just as I am beginning to feel a bit tired and peckish, delicious wafts drift out of the kitchen from 5 o'clock onwards. By the time I am leaving it is hard not to grab a plate and join the queue.
Anna's head appeared over the balustrade one evening
"I've bought you a tasting plate of Tian."
Within seconds I was wolfing it down. Heavenly, delicate and tasty. I tried to memorise the ingredients, made it for Danny a couple of days later and it didn't taste the same at all. The dogs were quite keen on it, which was lucky as I'd made a giant batch.
I discovered that Anna had forgotten to mention the onions and garlic. I made it again. Danny was unimpressed. Not being talented with an ear for languages I was under the impression that the dish was called Teal. Tefal without the f. I searched the internet for a recipe and was flummoxed when I just found recipes for a sort of waterfowl. Eventually I put my teal aspirations aside.
A few days ago the thought of yet another lentil had me in a fluster so I decided to have another go at this recipe. I just had to crack it. Not having written it down there were perplexing elements. I sent Anna a text. "How much onion is there in the teal? How about garlic?"
Silence.
So I tried adding the question to the end of a very sane text as I was planning to cook it that night. Anna's reply whistled through the ether. Apparently she had thought I was talking about paint and had finally completely lost the plot. She just didn't know how to respond. Teal does sound like a paint colour.
"We've decided to go for Teal in all the reception rooms, It seems to work with our paintings and antiques." Sounds authentic, doesn't it? Until you ask "How many onions you would like in the mix?
We went through the recipe with a toothcomb. I made it again – it was a bit better but not a patch on hers.
It turns out that Tian refers to the dish that the melange is baked in. The Provencal Tian – a round earthenware dish (which we do not possess). I found this recipe on the internet and suddenly was inspired. It was similar yet different to Anna's. Forget the earthenware dish, I could try and create my own Tian!
Tonight Danny was in Wales so I decided to try making the Tian for the final time. It wouldn't matter how long it took. I tweaked the ingredients and methods and tasted at every stage. The dish was different from Anna's but as delicious as the memory of the taster plate at her house.
This dish is great hot but also wonderful cold, as a slice in a lunch box. I made a baby one for myself tonight and a big one for us tomorrow evening. The recipe should easily feed six. Danny opened the front door to a waft of Tian, tried a forkful and loved it. The relief was visible.
Anna's half remembered wonderful spinach and courgette Tian recipe
Ingredients:
500g of spinach washed and wilted and pulverised in the Magimix
500g of courgettes washed, stemed until soft and pulverised in the Magimix
250g of finely chopped onions
10g of finely chopped garlic – two fat cloves (Chop in Magimix small bowl)
3-4 tblsp of olive oil
30g of finely chopped fresh parsley (include slimmer stalks. Chop in Magimix small bowl)
250g Basmati rice simmered in good strong stock (at least 750ml. Use a couple of veg stock cubes if desperate)
250g of grated mature hard cheese. I used a combination of mature Davidstow cheddar and Goat's cheddar
30g of grated Parmesan cheese
3 large eggs (whisked)
0.5 tsp of sea salt
1-2 tblsp of freshly squeezed lemon juice – depending on taste.
4 twists of ground black pepper
Method:
Chop the onion and simmer gently in the olive oil until soft and transparent. Add the garlic after five minutes or so and stir occasionally so as not to let them burn.
Cook the spinach and set the courgettes on to steam, until soft.
Meanwhile bring the rice to boil in the stock and simmer until cooked (follow the manufacturers suggested cooking times).
Blend the corgettes and spinach in the Magimix.
Chop the parsley fine and grate the cheese (reserve one third of the cheese or the topping).
When all the ingredients are ready combine in a bowl. Add the cheese, parsley, lemon juice, beaten eggs. Season with salt and freshly ground black pepper and pour into a large ovenproof dish. Scatter the remainder of cheese on top and bake for 30 mins at 180c (160c fan)
Tricks and tips:
The secret of this recipe is to simmer the rice in a really good stock (ours was a strong homemade vegetable ). Lashings of freshly ground black pepper and fresh lemon juice to enhance the flavours. The Magimix makes all the difference as the fine chopping enhances the flavours as well.

Leave a reply