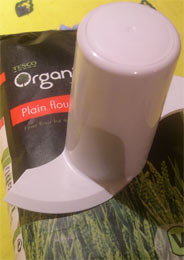 I learnt how to make pastry at school. I didn't enjoy the experience. It seemed to take forever. I think that I made it for Smart Wife. Once. Heavy ponderous stuff that shrank alarmingly away from the sides of the quiche dish when baked blind and guaranteed a soggy bottom.
Light years later I discovered Jusrol. Not having a rolling pin or a board I rolled it out on my worktop using an empty wine bottle. Perfect. But not quite as perfect as the pre-rolled Jusrol. I had inherited a rather dashing rolling pin by the time I found the long packs in the refrigerated section of the supermarket. It stayed in snug retirement in the drawer. A weapon waiting for an unsupecting burgular. Back then all I had to do was put the Jusrol in my basket, hand over the cash at the checkout and remember to take the pack out of the fridge an hour before use.
Just before Christmas I reverted to the square packs (cheaper) and this month I decided to try making pastry in the Magimix
. This would save money and might be fun.
I happened to bump into Anne Mary and she gave me her recipe and guidance.
"If you use Stork (margarine), use 4 oz of Stork to 8 oz of flour and only 3 tablespoonfuls of water. Pastry made in the Magimix can get quite doughy. You may need to pop it into the fridge for an hour or so before you use it. Of course, if you use butter you need a bit more water unless you want it very short, and if you make pastry using cheese …"
By this time my head was spinning so I missed the bit on cheese. I have since then linked up with Anne Mary and have two more recipes for Magimix pastry – a cheese one and a sweet one that I will post when I have tried them out.
Anne Mary's recipe made delicious pastry in a couple of minutes for a fraction of the Jusrol price. I let it chill in the fridge for an hour or so and then cut it in half and rolled it out. Lovely stretchy stuff – enough for two pie tops. Anne Mary had explained that the Stork gives the pastry this flexibility.
Danny is not keen on short crust pastry on a meat pie but he loved this and the cash saving. Cha ching!
Anne Mary's recipe for Magimix pastry
Ingredients:
8oz/226g plain flour
4oz/113g of chilled Stork margarine (chopped into 1cm pieces)
3 tblsp of chilled water
Method:
Fit the dough blade to the main bowl of the Magimix. Add the butter and flour and whiz until the ingredients are the consistency of breadcrumbs.
Pour the water through the funnel at the top.
Wrap the pastry in cling film or baking parchment and chill in the fridge for an hour or so if it seems a bit floppy.
If the pastry has been stored in the fridge for a few days let it reach room temperature before rolling it out. This pastry behaves just like good pastry should, with little shrinkage and great texture when baked. So prepare for tumultuous applause.
Leave a reply