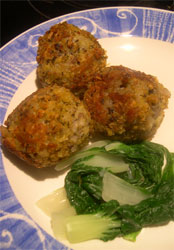 Having made the mushroom risotto, I finally read Richard's arancini recipe properly. I discovered that last time I had missed two vital ingredients: the beaten eggs and bread crumbs. I had merely rolled the balls in flour and attempted to fry them. No wonder they fell apart in the pan. Danny ate a strange mongrel cross that lurked somewhere between arancini, fried risotto and the bin.
Richard had been so enthusiastic about his arancini I just had to try them again. The discovery of beaten egg wasn't a problem but bread crumbs would mean sacrificing tomorrow's breakfast toast. So I had a poke about the fridge and discovered yet another airtight box of croutons. A few seconds with a wooden steak hammer and I had herby crouton crumbs. Croutons burn easily, so this evening's arancini were cooked over a very gentle heat. I discovered that crushed croutons make a great crispy coating for arancini.
It was downhill in a skiddy sort of way from then on.
Our goat's cheese had more than a flourish of mould. I searched for an alternative (fridge rather than Google) and discovered a fresh tub of Philadelphia cheese. This would do for a test run. Creamy and contained within the ball by the coating of beaten egg, it would melt into the arancini. The Phili cheese was a bit bland. Soft goat's cheese would have been superb.
I am ashamed to admit that laziness stopped me chopping the bacon fine, and mixing it with the cheese. Unaware of this, Danny put down his fork and tactfully suggested.
"If you chopped the bacon fine and mixed it with the cheese it would be so much better. You would have an explosion of flavour with each mouthful. Some herbs would be good too."
So next week, I'll be trying Richard's arancini again.
Leave a reply