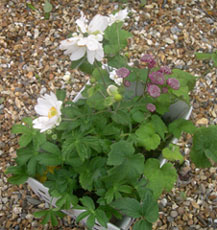 My mum always says that the best gardens have a decent show of flowers in September.
Walking around the garden last week, most of my autumn flowers are just on the cusp of bursting into flower. There was very little to see apart from pink Japanese anemones and white Michaelmas daisies. This morning I looked a little more closely and saw blue flowers on the plumbago, evening primroses, cosmos and sedums. I was thrilled to find that our first delicate autumn crocus has emerged.
With the prospect of not buying flowers for the house, I have been working on getting more late summer and autumn colour in the garden this year. I've stopped at every small wayside plant stand that I see. In the spring I bought a few unnamed chrysanthemums so I am curious as to how they will look when the buds open. We are still a long way from the sort of herbaceous borders that would impress my mum.
So imagine my delight when I arrived in Saffron Walden yesterday to be presented with this box from my friend Anna. The white Japanese anemone is a double one (Whirlwind) and is perfectly paired with the Astrantia major (v.rubra).
With the prospect of winter approaching, Autumn flowering perennials have a sweet mellowness for me.
Leave a reply