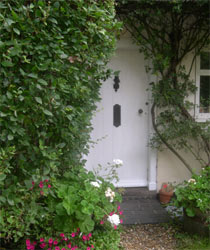 I crept home early from work today with a bug. Everything ached. So it was off to bed with a hottie, the Min Pins and a giant cup of tea.
I slipped in between the cool sheets and fell deeply, instantly asleep. So there is no post tonight just a photo of the barrels of annuals either side of the cottage front door.
The plants in these barrels have given us so much pleasure throughout the summer. The white pelargoniums are cast offs from my mother. They bloomed in her Cambridge window boxes last year. They rested in our greenhouse for the winter and have flowered on and off all summer.
Usually I stick to one type of plant in the barrels but decided to mix the pelargoniums with other annuals this year. I've enjoyed the effect as there is always something different going on in these miniature borders and everything just looks a bit more relaxed.
Leave a reply