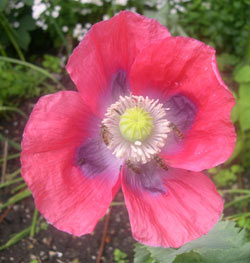 I went into the garden in the morning when it was sunny to check the keets and see what was happening in the garden generally. The rain has battered a lot of the plants in the herbaceous border but it still is looking lush. This opium poppy had opened in the kitchen garden and was attracting hover flies.
I love the flowers of this anual herb. The papery petals and their fleeting flowering makes them so special. I have seen opium poppies in the hedgerows in the lanes around here. They are tough plants that thrive anywhere.
The medicinal value of opium poppies is massive. Although the young seed heads are used to produce opium (heroin) they are also farmed and refined to produce the opiates for codine, morphine and a number of useful drugs. Opiates are highly addictive. Did you know that the Roman Emperor Marcus Aurelius and Elizabeth Barrett Browning were opium addicts? Ancient civilizations used poppy extracts in their medicines to treat pain killing and induce sleep. The names of some Gods reflect this such as Morpheus the Greek God of Dreams.
Opium poppies always remind me of my mother. Not because she is a small scale opium producer but rather because she always allowed poppies and other culinary flowers and herbs to self seed in her kitchen garden. I have continued the tradition and enjoy seeing what pops up every year.
John Coe disapproves and refuses to even refer to these stray plants by name.
"I suppose you will be keeping those." He stabs at the air just above them with his hoe. I usually weed the kitchen garden the evening before his bi-weekly visit so he is not tempted to rip the poppies up with the weeds.
We let the seed heads dry out and use the seeds in homemade bread and cakes. I always scatter some seeds in the kitchen garden, when John Coe's back is turned.
Leave a reply