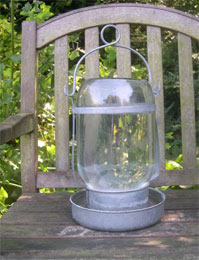 A lot more of us will be bartering in the future, I reckon.
I imagine that there will be a smart culture for professionals in suits with plastic barter cards and fingerprint swipes, and a subculture of people like us, swapping like for like. While an architect carefully swipes his forefinger in London there will be someone walking to the next village with a bag of courgettes and a pot of honey to swap for two organic sirloin steaks from cattle that have been grazing on someone's former lawn.
I hope that I will be a mover and shaker in the like for like culture. I am working on building up our bartering treasure. Learning about growing stuff that people will value in the future – blueberries, raspberries, garden flower honey, fresh eggs, and melt in the mouth jelly alongside seasonal veg and superb chutney. Someday we will produce a delicate goat's cheese and a yoghurt, although Danny has banned goats until I retire.
I started bartering about three years ago. A lot of my clients are not Internet savvy. If they need something, I am happy to go online and find the right item at a good price and order it for them. They are always delighted to pay what it costs but I have often found stuff lurking in their garage or shed that I am happy to swap for the goods. This is not because I have spotted a rare Chippendale chair mouldering into dust. I constantly need demi johns, chicken equipment, garden cloches and dog beds. Canny people hang onto these items for the future. Quite often the future is me.
We are also in the Ebay phase. Masses are selling. Many are buying.
"I bought this in Harrods / Harvey Nicks / Woolworths."
Has been replaced with:
"We got this on eBay."
"But they're great!"
"It was from a London embassy."
It doesn't matter if you got what you needed from a garage in Peckham. The main thing is that you got what you wanted, at a competitive price. If something needs to be replaced, eBay is now a first port of call.
The photo above is of our new chicken/Guinea fowl water fountain. I have always wanted a water fountain with a clear glass chamber. I know that in the winter the ice will crack the chamber so it's solely for summer use to supplement the other drinker on very hot days. I swapped it for a pot of paint that my friend Anna needed and which happened to be taking an extended sabbatical in Jalopy.
And that says it all.
Leave a reply