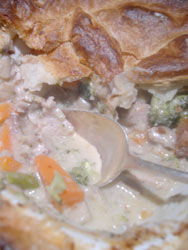 Last week we ate a slow pot roast pheasant baked in a nest of spicy red cabbage. It was pretty good – an easier variation of the recipe that appeared in The Times . But I didn't think that it was a patch on our gypsy style roast pheasant. This evening I made a pheasant pie with the remaining meat. I have be wanting to make a game pie that incorporated a thick bechamel sauce for ages and with six pints of fresh bechamel sauce at the hip now was my chance. Our recipe for thick bechamel is contained in our cauliflower cheese recipe.
Tasty, comforting and rather special. A great way of using up cold left over pheasant (or chicken, goose or any winged fowl). Don't leave out the Marigold seasoning of the garlic granules, I bunged them in just before the pie went into the oven to give the sauce a bit more pizzazz. Use a thick bechamel as well. Mixed with all the other ingredients it was the perfect consistency.
Comforting pheasant pie recipe
Ingredients:
The meat from half a cold cooked pheasant cut into bite sized pieces
1-2 tbsp of olive oil
30g of butter
1 onion chopped
200g of chestnut mushrooms sliced fine
450ml of thick bechamel sauce
0.5 tsp of Marigold stock powder
0.5 tsp of garlic granules
2 pinches of good quality Italian herbs
4 broccoli florets
2 medium carrots, peeled and sliced into 3 cm lengths
Method:
In a saute pan sweat the onion in the olive oil for ten minutes
Add the sliced mushrooms, herbs and butter and mix well sweat for another 5 minutes.
Meanwhile boil the carrots and broccoli until nearly done (just a bit more bite than serving to table.)
Add the bechamel sauce to the pan, stir to heat through add the pheasant and the broccoli and carrots, garlic granules and Marigold vegetable stock powder.
Meanwhile roll out your pastry.
Put the pheasant and vegetable mix in a pie dish and top it with puff pastry (glaze the pastry with beaten egg or milk) and bake for 20-30 mins at 220c (200c fan) until the topping is golden brown.
This was a complete meal but French beans and a few new potatoes would make it perfect.
Leave a reply