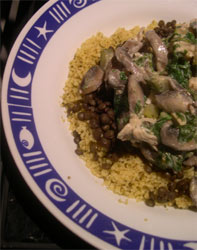 Leftovers. They tend to lurk in the fridge. Danny seems to have a mental list of them.
"I just wondered who is cooking tonight? We have loads of leftovers. Pork and chicken and then there's that ham…"
D gets up earlier than I do. He has hours to examine the contents of the fridge.
"We MUST use these leftovers up. It's such a waste."
I know that it's a failing but I rarely think, "Cold roast chicken. That could be transformed into a risotto/pie/sandwich."
I spot the chicken dressed in foil and decide that it is next day's meal (when it's D's turn to cook).
I decided to try and make something delicious with some cold chicken that had been hanging about in the fridge for a few days. I pulled out all the stops for this one and in the end it didn't taste like a "left overs" meal. It actually was so tasty that D asked for the leftover, leftovers for a London lunch the next day. I ate mine cold behind the wheel of Jalopy, parked in a busy Saffron Walden street. It was extra good with a sprinkle of soy sauce.
Creamy chicken with mushrooms, puy lentils and cous cous recipe
Simply follow the instructions for our mushroomy mushrooms recipe. At stage three add a couple of diced courgettes. When the courgettes and mushrooms have softened and cooked, add a large cooked chichen breast (diced) and a handful of cooked chopped spinach let these gently heat through (3-4 minutes max). Just before serving add 3 tablespoons of single cream and simmer gently for a minute or so.
I served this on a bed of herb infused cous cous and a scatter of puy lentils. The combination of textures was good and it made a little chicken go a long way.
Leave a reply