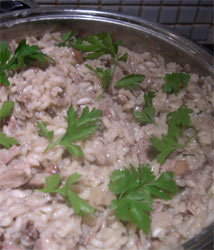 "Come on over. We are having goose risotto."
"What sort of goose?" Gilbert's tone was wary.
"A free range Gressingham goose. Cost a fortune but it was a present from my Mum as our Christmas Day treat."
There was no response so I added:
"A goose that's had a happy life in a goosey sort of way. It even came with a small cookbook and an oven thermometer."
Gilbert thought for a moment.
"So it arrived for Christmas with full instructions on how to cook it? Thank goodness geese can't read! Was the thermometer any good?"
I knew that Gilbert was writing down the invitation as he spoke, for Marjory to silently accept or decline on the spot. Everyone has their own pet version of this scenario. Danny is head of the Incoming Invitations Department (CEO IID). All incoming calls are transferred to the Rat Room. This has him thinking on his feet in a trice. Much more effective than Sudoku and avoids shrieks when the date finally arrives.
I wasn't wildly confident that the risotto would work so pulled out all the stops for this one. It was delicious. Raunchy and packed with flavour. The goose meat element was superb with the rich meat balancing perfectly with the texture of the Arborio rice. Don't put the meat in until the very end as it just needs to heat through.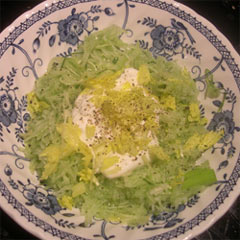 As this dish was quite rich I used my ADC. I served it with a finely sliced salad of celery, cucumber and spring onion.  Magimix
prepared this salad in seconds – a dab of sheep's yoghurt and a sprinkle of freshly ground black pepper. Very fresh and cool. The perfect foil for the risotto.
Goose risotto to die for recipe
Ingredients:
1 large onion
1 fat clove of garlic (chopped fine)
400g of Arborio rice
1 litre of stock (I used 500ml of chicken stock and 500ml of vegetable stock made with two tsp of Marigold stock powder.)
0.5 tsp of good Italian dried mixed herbs or 1 tbsp of fresh chopped herbs
1 level tsp of green peppercorns
250g of Chestnut mushrooms sliced fine
1 tsp of pesto
4 tbsp of finely grated parmesan
2 large handfuls of chopped goose meat from the carcass
Method:
Over a low heat add the chopped onions to the olive oil and cook until soft and translucent.
Add the rice and another tablespoonful of oil if the mixture seems a bit dry. Toss the rice in the onion and oil mix until all the grains are coated.
Add the garlic. Add 250ml of stock and stir to absorb. Add mushrooms, pesto, green peppercorns and herbs.
Keep on adding the stock and stirring, letting the rice absorb the moisture.
When the rice has softened but still has a bite (20 mins approx) add a couple of tablespoons of parmesan and the chopped goose meat and remove from the heat.
Stir the meat well into the risotto. Put the lid on and leave for five minutes. Scatter with a dessertspoon of fresh parsley and the rest of the parmesan.
Leave a reply