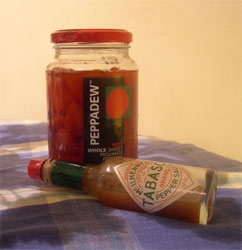 "I thought that it would be too spicy for them but I suppose that Indian dogs eat curry. And dogs in Morocco must wolf down spicy scraps"
"You did feed them earlier, didn't you?"
We were watching our pack guzzling the leftovers from supper. They are fed early evening but we always give them the scrapings from our supper. A sort of canine Little Foodies thing (Little Foodies are in Italy at the moment and all the Min Pins would love it. Pasta has them jumping through hoops. This is a blog that is well worth ckecking out.)
There is very little that the Min Pins don't eat now. Dr Quito doesn't like potatoes and The Contessa isn't wild about seafood but everything else disappears in a flash. Inca and Great Aunt Daisy Beatyl are happy to help out and patrol for any rejected scraps.
The only things that always remain untouched for all animals sharing our home are salt and mustard. If you have Min Pins you don't need to read The Lancet if you are concerned about the effects of salt.
We had spaghetti and lamb meatballs last night (using our cheat's recipe). As I was working late the leftovers were on the menu. I came home longing for spicy food. I have to be careful. Danny is sensitive when it comes to spicy. I added a teaspoonful of Tabasco and four finely chopped Peppadew peppers to the meatball pot and put it on to simmer as I prepared the couscous.
A 'Moroccan' style couscous was created with the addition of large handful of fresh herbs. Finely chopped and stirred into the mix (mint and coriander). These infused as the couscous soaked up the stock (250g of couscous added to 400 ml of boiling water and a heaped teaspoonful of Marigold stock powder. Remove from the heat, add a knob of butter/splosh of oil and the herbs. Leave for 5 minutes and fluff up with a fork).
Danny's fork stopped abruptly mid air when he heard that a teaspoon of Tabasco had been added to the meatballs. Fascinated, I watched the slow progress of the fork to mouth.
Luckily, he loved this meal. If you are worried about adding an ingredient in a recipe add it incrementally and taste. I do this with spicy stuff. If Danny won't eat it, the Min Pins follow suit.
This meal took 15 minutes to prepare and was enjoyed by us all. Yap.
Leave a reply