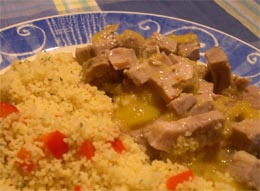 Danny and I tend to buy decent sized joints these days. A bigger joint is tastier and easier to roast, and the leftovers take care of another meal or two. The problem is that I never fancy leftovers. I want to cook from scratch.
D "What are you cooking for supper tonight?"
F "Sausages with Anna's onion gravy." I know that Danny loves this gravy so will be deflected from the joint that's lurking in the fridge. The distraction is only momentary.
"What are we going to do with the pork?"
"Why don't we freeze it?"
The freezer is full of half eaten joints of pork and lamb. Beef is chomped in sandwiches and with salads within two days.
So this morning we discussed the joint of pork as we breakfasted on large brown boiled eggs from Carol, our Maran hen. It was Danny's turn to cook supper. Tinned apricots in juice (rather than syrup) are a great base for a sauce. Danny added his own secret twist – sweet chilli sauce. He made couscous with some Marigold and the couscous spices that we bought from the Spice Shop off the Portobello Road on our foodie day out in London. Half a red pepper, softened in olive oil over a gentle heat for 20 minutes, added extra zing and texture.
The flavour of Fred's excellent spare rib of pork was not masked by the sauce. It was a perfect balance. And the couscous was very tasty with the addition of the fresh red sweet pepper.
It was an elegant supper with very mild piquant flavours. A hefty step from our old meat in curry sauce days.
Suddenly the gauntlet has been thrown down. Next week I have to respond so I might give myself some thinking time and buy beef this weekend.
Leftover spare rib of pork with apricots and sweet chilli sauce recipe on a bed of couscous and sweet red peppers recipe
Ingredients:
250g of cooked spare rib of pork, diced
250g tin of apricots in juice (not syrup). Danny held back 100ml of the juice
2-3 tsp of sweet chilli sauce (depending on taste. D used 2 tsp)
For the couscous:
200ml of boiling water
125 g of couscous
1 tsp of Marigold powder
1.5 tsp of couscous seasoning (Spice Shop)
0.5 red sweet pepper chopped
1.5 tablespoons of olive oil
Method:

Chop the red pepper (medium chop into 0.5 cm chunks) and fry gently in a tablespoonful of olive oil for 20 mins.
Meanwhile reserve 100 ml of the apricot juice for another brilliant recipe.Squish the apricots in your hand(s) and add these and the remaining juice to a small saucepan. Add the sweet chilli sauce. Bring to the boil gently.
Remove from the heat, add the diced pork and cover. The sauce will heat the pork through without destroying its flavour as you prepare the couscous.
Add the Marigold to the 200ml of water and bring to the boil. Remove from the heat and immediately add half a tablespoonful of olive oil, the couscous, the sweetened red pepper and the spices. Sir well, briefly. Leave covered for at least five minutes.
Adjust the seasoning and serve.
Leave a reply