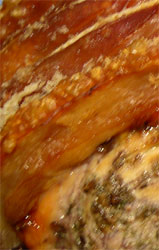 There's a great section in Waitrose branded "Cooks Ingredients". A range of rather special things, attractively packaged. Thinking about it, the majority of products that any supermarket sells are cooks ingredients. It's just that we don't think about that as we plod round doing the weekly shop in Tesco.
We buy our anchovies from the "Cooks Ingredients" section (Update March 4th 2007: Tesco now has a similar section and sells a similar jar for a similar price). A decent amount packed into a Le Parfait jar, much cheaper than buying those tiny tins. We also buy their myrtle. I didn't know that myrtle was edible until I picked up the cylinder and read that it is great as a rub for roast pork. Half an hour later I presented the Sunday roast expert with the long tube of myrtle. He was intrigued and the next Sunday cooked a joint of roast pork that I'll remember forever.
Since then he has adapted his myrtle rub to make it even better. The apple gravy is worth a shot too. The other thing to remember is to get a decent joint. We are lucky to be near a fabulous butcher. Fred Fitzpatrick on Exning Road, Newmarket (since retired, sadly). The joint that they recommend is "spare rib of pork" for best flavour. This is not spare ribs but collar of pork that has been rolled and tied by the butcher.
Allow about 1 kilo for two/three people. It will shrink in the cooking and anything smaller will end up too dry. That size will give you seconds and leftovers for another meal. We chop up the remains of a joint to add to a curry or stir fry or eat wafer thin slices with wild plum chutney and baked potatoes.
Try and avoid those joints you see in supermarkets where the fat/crackling is held on by what looks like a hair net. They are often tasteless and disappointing. Because we are very busy and time is short, we devised this method for producing the best roast pork that we have ever tasted. The preparation is quick and it works every time.
For us, roast pork can be a pretty bland dish without these three elements
1. Crispy crackling
2. Easy no-work apple-flavoured gravy
3. A fantastic aromatic zesty flavouring to the outer slices
Good roast potatoes are a must with this dish and our recipe is here.
Recipe for perfect roast pork with apple gravy (feeds two/three with seconds and leftovers)
Preheat your oven to 240 (220 fan assisted, gas mark 9). This temperature will crisp the crackling.
Ingredients:
1 kilo Joint of pork (spare rib is best)
3 medium cooking apples
1 tsp of salt
2 glasses of white wine
1 tbsp of balsamic vinegar
Myrtle rub:
1 tbsp of dried myrtle
1 tsp of garlic granules or a medium clove of garlic
1 tbsp of dried tarragon (French is best but any will do)
1 tbsp of olive oil
Method:
There's no need to rub the crackling with salt to remove the moisture. We use good quality kitchen towels these will absorb and extract moisture faster than salt. Ideally dab the crackling aggressively with kitchen towel. Apply another piece of the kitchen towel and let it sit for a few hours. Last Sunday we forgot to do this, dabbed it furiously twice, and it worked just as well.
Mix all ingredients, except the olive oil, in a pestle and mortar. Grind until reasonably fine. The myrtle can be hard to break down but don't worry if it's a bit coarse. Add a tbsp of olive oil and stir to make a paste. Rub the paste over the fleshy parts of the joint, not on the crackling.
Sprinkle 1tsp of salt over the crackling and rub it in
Put a piece of foil into a roasting tray and shape it into a mini baking dish with four sides. This is to retain the cooking juices in a smaller area and make them less likely to boil dry.
Place your joint into the middle. Put three baking apples (top side down) around the joint and semi cover them with the foil so that they won't burn during roasting.
Add two glasses of any white wine and a tbsp of Balsamic vinegar.
Place in the hot oven for 25 minutes. Then turn the oven down to 190 (170 fan, gas mark 5) for another hour.
Remove the joint to a plate and cover with a duvet of foil and towels to let it relax for about 30 minutes. Meanwhile, start cooking your vegetables (ideally include carrots as one of your veggies. Carrot water enhances any gravy.).
Ten minutes before meal is served, make your apple gravy. Pour the juice from the baking tray into a saucepan over a medium heat. If you have cooked carrots as a vegetable, add half a mug of carrot water to the saucepan.
Remove the skins of the baked apples. Scrape off the soft outside bits of the fleshy core with a fork and mash (discard the cores). Add this mush to the gravy in the saucepan and reduce it for five minutes or so.
Leave a reply