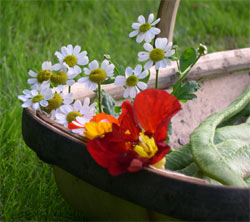 I went down to get some unseasoned logs from the bottom of the garden at dusk. These keep the fire damped down well in the wood burner once it has got going and has produced a good thick layer of hot embers.
Through the gloom I spotted that there was a final flush of runner beans hanging on the canes. A week ago, I'd been willing the doll-sized beans to grow. But, getting back after dark, I hadn't visited the kitchen garden for a while and had forgotten all about them.
Now we have a final sizeable harvest. Enough to freeze for Christmas Day lunch, some to eat this evening with our duck in plum sauce. The rest are earmarked for some Oded Schwartz fruit and vegetable Piccalilli. I love this gentle version of the pickle and it's a great way of adding a little turmeric to our diet.
We could eat runner beans every day. We never tire of them. Last month I was given a hot tip from Maurice who helps out at the butcher's on a Friday and Saturday. His primum mobile is his quarter acre allotment.
When I crossed his palm with a small pack of home smoked bacon he smiled and suddenly opened up.
"We've been eating tomatoes until they're coming out of our ears."
"We got blight on our outdoor ones."
"You have to take action early and study the weather, especially in July. Those warm wet muggy nights are lethal. I spray to protect rather than treat."
I enviously imagined his feast of tomatoes.
"I'm picking a regular kilo of runner beans a day at the moment," chortled Maurice.
"What?"
I'd thought that ours were cropping well. He leant across the glass display case and confided in a low voice, "Let you into a secret. Next year, grow White Lady. They're rock solid and crop well."
I was wondering how I'd remember the variety when he added,
"Do you think that you'll be able to remember that?"
My brain whirled.
"Of course.  White Lady? That's me!"
Leave a reply