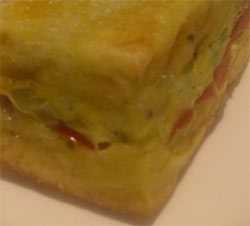 Bored up a ladder is quite a good state to be in if I'm working across the road from the cottage. It's salved by a proper lunch hour. I can guzzle a sandwich and concentrate on a bit of midday weeding.
Yesterday I decided to cook us lunch, from scratch. I had found an intriguing recipe and also have four dolls sized virgin bread tins that I have been aching to use for some time.
Facing a glut of tomatoes in the fridge I'd grazed several cookery books and the recipe that caught my eye was deep within in The Silver Spoon
. This book is said to be Italy's best selling recipe book for the past 50 years. It was translated from Italian two years ago. It is a hefty 1200 page recipe book and due to its size makes a handy step for reaching things on the top shelf of the larder. It is also packed with recipes and inspiration. When Veronica, who writes the excellent La Recette du Jour pointed out that a good Italian cook book is a great source of vegetarian recipes it was heaved back to its proper place beside the other cookbooks in an instant.
The dish that caught my eye was Rustic Tomato Pie. Using a bread topping as well as a base these were oven baked tartines with knobs on. Somehow the combination of rustic and tartines intrigued me, I imagined thick set Italian farmers opening large lunch boxes and scoffing delicate double tartines. In its most basic form a tartine involves ingredients arranged on a slice of bread.
Perhaps it was down to the dinky bread tins but these diminutive concoctions were to die for. We each ate one straight from the oven. Today I decided to try one cold. The plan was to leave the other for Danny (away on business) but I couldn't resist a slice of his one and before I knew it, there was only a mouthful left. So I'm ashamed to say, I polished it off too.
They are so quick and easy to make that I can run up another four before he can even mouth the words tomato tartine.
Hot they make an unusual and elegant vegetarian starter. The bread, cheese and egg combination transmogrified into something stunning, somehow bringing out the best of the ingredients. The bread was no longer bread as we know it. The spring onions and tomato filling was rich, intense and succulent.
Cold, these would dazzle on a picnic. Having never been to Glyndebourne I sometimes dream about the perfect hamper. These would be a superb addition to this fantasy or a great surprise in a lunch box for your very best friend.
The Silver Spoon recipe was baked in a standard bread tin. Using 12 slices of wholemeal bread, 3 spring onions, 500g of tomatoes, and oregano. It used just one egg and a quarter of a pint of milk. The bread tin was topped with 50g of pecorino cheese.
The contents of my fridge demanded a change in the balance of ingredients and used mixed Italian herbs and cheddar cheese. My 4 baby bread tins measure 6cmx4cm.
Double tomato tartines recipe (4 individual pies)
Ingredients:

3-4 slices of white bread (thick sliced, slightly stale)
A bunch (6-7) of small spring onions sliced into the green tips
6-8 small tomatoes sliced
4 pinches of mixed Italian herbs
2 medium eggs
2 tablespoons of milk
A handful of finely grated cheddar cheese (I tried Gruyere on one, it didn't work nearly so well)
Ground black pepper
Olive oil
Half a clove of garlic (chopped fine)
Method:
Set the oven to 180c (160c fan)
Sauté the onions and garlic in a little olive oil for 5 minutes until soft.
Meanwhile grease the tins well and line the bases with bread.
Divide the softened spring onions between the 4 tins cover with a layer of sliced tomatoes. Sprinkle a pinch of mixed herbs in each tin and a dash of ground black pepper.
Cover the filling with a slice of bread.
Whisk the eggs and milk well and spoon onto the tins. Scatter over the cheese topping.
Place the tins on a baking tray and put on the top shelf of the oven. Bake until the cheese topping is golden brown (20 minutes or so). Leave to cool slightly before turning out. Serve upside down.
Leave a reply