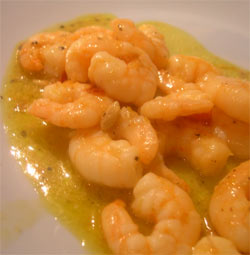 It's Danny's birthday.
"What would you like to eat this evening?"
"Well, I don't know really."
"How about Diana Henry's Spiced Chicken breasts on melting onions with preserved lemon? They're delicious Even Bunty asked for the recipe."
"They sound great but I don't remember them."
But I couldn't find the chicken breasts in the freezer.
"How about a takeaway from Arif?"
D's eyes lit up. This Indian restaurant is very good since they employed a new chef two years ago. We don't do takeaways these days but a birthday is a Birthday.
I had also discovered some frozen raw king prawns.
"There's just one more option. Gambas Pil Pil. A whole pack just for you plus half my pack?"
Resistance was futile. The prawns won.
Gambas Pil Pil are ideally a starter. Bur can be padded out for a main course. We'd recommend a good salad and loads of crusty bread. D's brother Donagh cooked these for us on the memorable evening, just before he fell, laughing, into the pond. I still smile at his comment the next morning.
"I woke up and wondered what the green stuff was on the tiles in the shower. Then I saw my pile of clothes and the duck weed."
I've posted the recipe for Gambas Pil Pil as a spaghetti sauce. But they really shine accompanied by crusty bread and a good bottle of chilled Pinot Noir. It has been said that they can make a man forget the passing of the years for the ten minutes that it takes to devour them. I can vouch for that. Could this be the culinary version of the Power of Now?
Do try Gambas al Pil Pil at home. Delicious. Dream food for that very special occasion.
Donagh's Gambas al pil pil recipe (for 2 or for 4 as a starter)
Ingredients:
300g of raw king prawns unfrozen
2 chunky cloves of garlic (very thinly sliced and chopped)
1 small hot red birds eye chilli (finely chopped, seeds removed)
5 tbls of olive oil
zest and Juice of one lemon (or half a large lemon)
1 tsp of salt
plenty of freshly ground black pepper
crusty French bread
Method:

Heat the olive oil (medium to hot until it is just smoking). Add the garlic, lemo zest and chilli. Just as the garlic is turning pale brown toss in the prawns.
Keep turning the prawns as you add the lemon juice.
When the prawns are no longer translucent (1-2 minutes). Add a sprinkle of salt and plenty of ground black pepper and serve on warm plates with crusty French bread.
Leave a reply